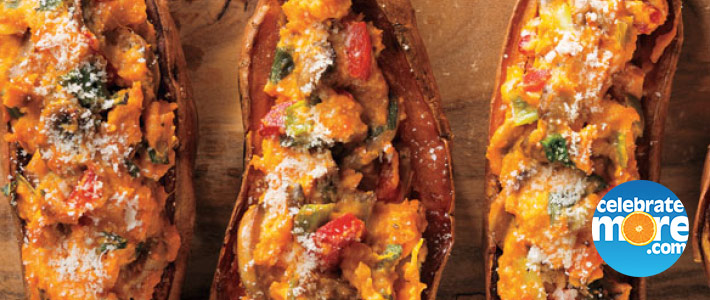 Twice Baked Sweet Potatoes
Prep: 30 minutes
Bake: 55 minutes • Serves: 8
Nonstick cooking spray
4
medium sweet potatoes (about 12 ounces each)
1
tablespoon canola oil
3
green onions, chopped (about 1/4 cup)
1
cup chopped white mushrooms
1/4
cup drained and chopped roasted sweet red peppers
1
package (8 ounces) cream cheese, softened
1
tablespoon chopped fresh thyme
1
tablespoon chopped fresh sage
1/2
teaspoon salt
1/2
cup grated Parmesan cheese
1.Preheat oven to 350°F; spray rimmed baking pan with cooking spray. Cut potatoes lengthwise in half; place cut side down on prepared pan. Bake 40 to 45 minutes or until tender; cool slightly.

2.Meanwhile, in large skillet, heat canola oil over medium heat. Add onions and mushrooms; cook 5 minutes. Add peppers; cook 2 minutes or until vegetables are tender.

3.When potatoes are cool enough to handle, with spoon, leaving at least a 1/4-inch wall, scoop out inside portion of each potato half into large bowl; return potato halves, skin side down, to same pan. With fork, mash potatoes in bowl until small lumps remain. Add cream cheese, thyme, sage, salt and mushroom mixture; stir until well combined. Spoon potato mixture into potato shells; evenly sprinkle with Parmesan cheese.

4.Bake 15 to 17 minutes longer or until cheese browns and potatoes are heated through.


Approximate nutritional values per serving:
290 Calories, 12g Fat (7g Saturated), 36mg Cholesterol,
442mg Sodium, 37g Carbohydrates, 5g Fiber, 7g Protein

Helpful Tip:
> Potatoes can be prepared through step 3 (leave off Parmesan cheese), covered and refrigerated up to 2 days in advance. Before serving, sprinkle potatoes with Parmesan cheese and heat in 350°F oven 25 to 30 minutes or until cheese browns and potatoes are heated through.