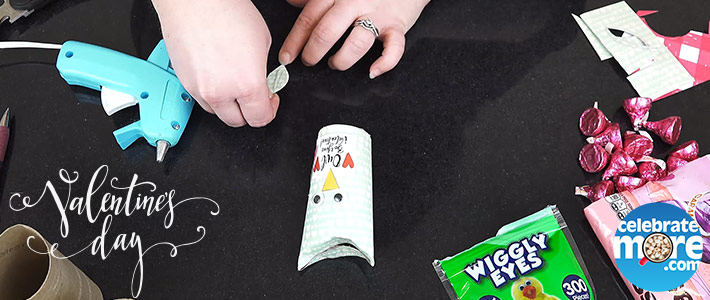 The beginning of the year always goes by SO fast! It's hard to believe it's already Valentine's Day. Luckily that means the end of this cold Winter isn't too far away either!
Valentine's Day is always a great time of the year to reflect on the people in your life that mean the most to you, whether that's a husband, children, siblings, parents or friends. It's a good reminder to make sure those people know just how much they mean to you! This year, I decided to do some fun Valentine's Crafts that would be great to do with the kids!
The first part of the video shows me making a felt candy flower. I used Tootsie roll suckers since they're my husband's favorite. I just cut out a bunch of hearts out of felt and hot glued them on. Super fast, really easy and also really inexpensive! Maybe let the little ones use some craft glue versus the hot glue tough.
Up next is another fast, easy and inexpensive one, the candy pouch. You could make these much smaller than what I made. Just make sure the opening is big enough to fit the candy inside. These would be a fun one for kids to hand out in class.
Lastly, my favorite one of all, the Owl Valentine! I think these are seriously adorable! I bought a couple sheets of scrap book paper for mine, but you could also use plain computer paper and let the kids decorate it. If you're using craft glue, I would suggest using a couple rubber bands to hold the paper around the toilet paper tube while the glue dries. While it dries you can cut out the "Owl Be Your Valentine" squares and the beaks with this free printable!
I hope you have some fun with these! Happy Valentine's Day!
Ashley,
Coborn's Inc. Social Media/Creative Specialist
---