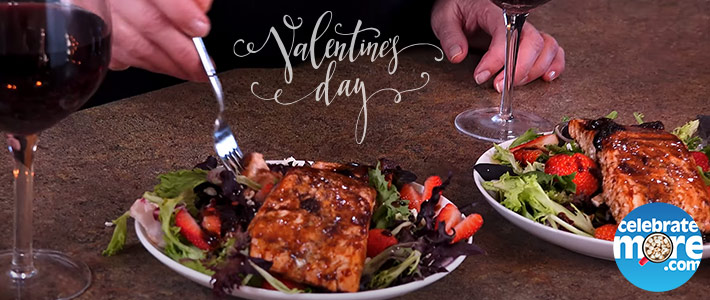 Hi Everybody!
I'm the type of person that would rather prepare a great meal for Valentine's Day at home instead of going out. Call me crazy but I love to experiment with different types of meals and try to make them a little more elegant then I would on a weekday. If you follow my blog you know that one of my favorite seafood items is "Norwegian Salmon" and I just can't wait to serve this recipe on Valentine's night. I love this recipe because it's a salad and entrée in one. This one is so easy to make and you just can't forget to serve a good wine with it to celebrate. This time I chose "Decoy" Pinot Noir and it's a California wine. It pairs perfectly with salmon. I hope you have a wonderful romantic evening whether you are going out or staying in! Celebrate the time together!!
Strawberry Balsamic Glazed Baked Salmon Salad
Ingredients
16 oz. Norwegian Salmon with skin on
Salt & Pepper to season
Olive Oil
Glaze
2/3 cup Balsamic Vinegar
8 teaspoons brown sugar
3 large strawberries, sliced
½ shallot, sliced
Salad
1 bag mixed greens
4 large strawberries, sliced
4 Tbsp Feta cheese crumbles
Instructions
Preheat oven to 425 degrees. Cover a rimmed baking sheet with foil and spread with olive oil over the top. Rub salmon skin with same oil and place it skin side down on prepared baking sheet. Season with salt and pepper.
In saucepan put in balsamic vinegar, add in brown sugar and stir together. Slice strawberries and shallots, and add them to balsamic vinegar. Simmer, stirring often until it's cooked down to half the amount. Remove from heat. Brush salmon with balsamic glaze on top and sides. Bake salmon for 13-16 minutes, depending on the thickness of your salmon but make sure the internal temperature of salmon reaches at least at 145 degrees. Take salmon out and brush it generously with more balsamic glaze.
Arrange spring mix, sliced strawberries, thinly sliced shallots and Feta cheese crumbles on a dish. Place salmon on top of salad and drizzle a little balsamic glaze on salad.
Happy Valentine's Day Everyone!
Jayne,
Coborn's, Inc. Merchandising Specialist Team Manager – Bakery & Deli