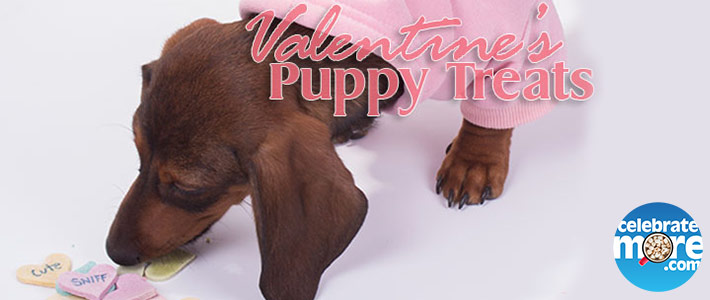 Last October we brought home a furry little bundle of joy that we call Bella. Having a new puppy definitely had its challenges, but now we can't imagine our lives without her! The way she wiggles and squeaks with excitement every time we come home, regardless of how long we were gone, is something that never gets old. I'm sure many other pet owners can relate!
With Valentine's Day coming up soon I thought it would be fun to make something creative to celebrate our first Valentine's Day with Bella in our lives. And since she's a dog, and all dogs love treats, I thought it would be fun to make her some homemade treats. Bella approved! The recipe is very simple and versatile as well. I cut out heart shapes and painted a variety of words on them to make them festive. You could always skip the food coloring and the words if you are short on time, or change the colors and the shape to go with the seasons!
Keep in mind if you have several dogs you can always increase the recipe to accommodate or if you have large dogs you can use a larger cookie cutter as well. I would roll them a little thicker if you're going to make them larger so they don't break apart.
Have fun and Happy Valentine's Day!
Valentine's Puppy Treats
Ingredients
1 cup brown rice flour
1 jar (4 oz.) pureed apple baby food
Food coloring
2-inch heart-shaped cookie cutter
Parchment paper
Fine-tipped artist's brush
Instructions
Preheat oven to 350ºF.
Cover 2 baking sheets with parchment paper.
In large mixing bowl, combine flour and applesauce; mix until crumbly dough forms.
Add a few drops of water to mixture if needed to help mixture stick together and form a soft, non-sticky dough.
Divide flour into as many equal parts as needed depending on how many different colors you will be using.
Add a few drops of food coloring and knead until well mixed, adding more as needed until desired color is reached.
If needed add extra flour to help dough from becoming sticky.
Repeat for all colors.
Roll each color of dough between two sheets of parchment paper.
Use a 1-2 inch heart shaped cookie cutter to cut shapes into dough.
Place on baking sheets; bake for 7-10 minutes, or until treats are firm and appear dry; let cool.
Using fine tipped artist brush, use small amount food coloring to write on treats.
Store in air tight container.