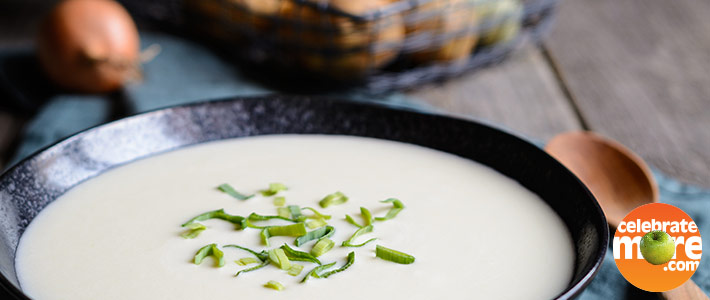 Ingredients
1 Tbsp Butter
3 Leek Bulbs, sliced into rings
1 Onion, sliced
5 Potatoes, peeled and thinly sliced
Salt & Pepper to taste
1/4 tsp Dried Thyme
1/2 tsp dried marjoram
1 Bay Leaf
5 Cups Chicken Broth
1/4 Cup Heavy Whipping Cream
Instructions
In large pot melt butter over low heat. Add leaks and onion. Cover and cook for 10 min.
Add potatoes and seasonings; stir to combine. Continue cooking for 10-12 min.
Add chicken stock and bring to a boil, then reduce heat. Cook partially covered for 30 minutes.
Puree soup in food process and cool.
Prior to serving, add cream.
Notes
If serving soup warm, reheat slowly as to not change the consistency of added cream.