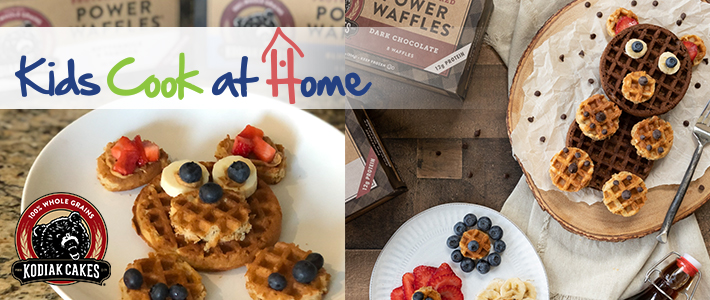 Recipe Difficulty: Easy
Oven: No
Stovetop: No
Knife: Yes
Supplies Needed:
Cutting Board
Strainer (to wash produce)
1-2" round cookie cutter (or similar item to use as a cookie cutter)
Pairing Knife*
Serving Size
2 servings per bear
Ingredients
3 Kodiak Cakes Frozen Waffles, toasted
1/4 Cup Fresh Blueberries
1 Small Banana, cut into slices
2 Fresh Strawberries, cut into slices or chunks
1 Tbsp. Food Club Creamy Peanut Butter
Instructions
Toast Kodiak Cakes frozen waffles to desired doneness.
Put one whole waffle in the center of your plate.
Using a 1-2" round cookie cutter, cut out 4 circles from the additional 2 waffles. Take 2 of the waffle cut outs and place them below the large waffle on the plate. These will be the bear paws.
Take one of the waffle cut outs and cut it in half. Take each half and place on the top of the plate, to be the ears. Place the remaining cut out in the center of the whole waffle. This will be the Bear's nose.
Carefully wash and cut produce as stated in ingredient list. Add sliced strawberries on top of the ears. Add 2 slices of bananas for the eyes. Use a small amount of peanut butter as the glue, to hold one blueberry on each banana slice.
Add additional blueberries in the paws. Enjoy!
Notes
Recipe adapted with permission from Kodiak Cakes
It's recommended to practice good hand-washing frequently while cooking. 
*Adult supervision is recommended and assistance may be necessary when working with knives.