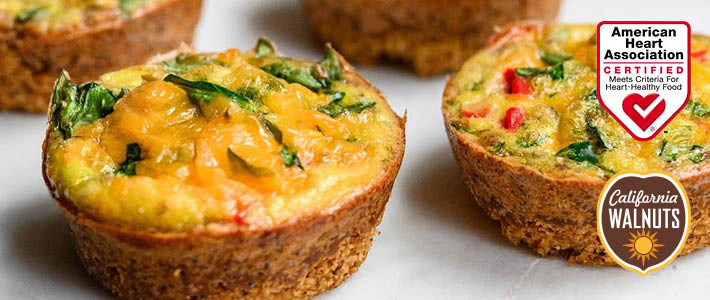 Walnut & Oat Crusted Egg Cups
Total Time
1 hour, 15 minutes
Ingredients
Cooking spray
1 1/2 cups Old-Fashioned Oats
3/4 Cup Chopped Walnuts
1/4 Cup Extra Virgin Olive Oil
1/4 tsp. Salt
2 Tbsp. Cold Water
9 Large Eggs
1/2 tsp. Garlic Powder
1 tsp. Dried Oregano Leaves
1 Tbsp. Stone Ground Dijon Mustard
1 C. Baby Spinach, coarsely chopped
1 Small Red Bell Pepper, diced
3/4 C. Extra Sharp Shredded Cheddar Cheese
Instructions
Preheat oven to 350°F and generously spray a 12-cup muffin pan with cooking spray.
In the bowl of a food processor, pulse the oats until fine and flour-like. Add the walnuts and pulse until blended with oat flour. Pulse in the olive oil, salt and water until the mixture comes together.
Spoon walnut-oat crust mixture evenly (about 1 ¼ tablespoons each) into each muffin cup and press it into the bottom and part way up the sides. Bake 25 minutes, until crust begins to brown. Cool on a wire rack 10 minutes.
In a large bowl, whisk eggs, garlic powder, oregano and mustard thoroughly until well combined. Stir in spinach, bell pepper and cheese.
Fill each muffin cup evenly with egg-veggie mixture and bake 20 minutes, or until the eggs are set. Cool slightly on a wire rack before removing the egg cups by carefully inserting a sharp knife between the crust and the muffin pan.
Notes
Recipe and photo shared with permission by CA Walnuts
A heart smart breakfast is made quick and simple with these Walnut & Oat Crusted Veggie Egg Cups, the perfect grab-and-go breakfast that are great for meal prep for the week.