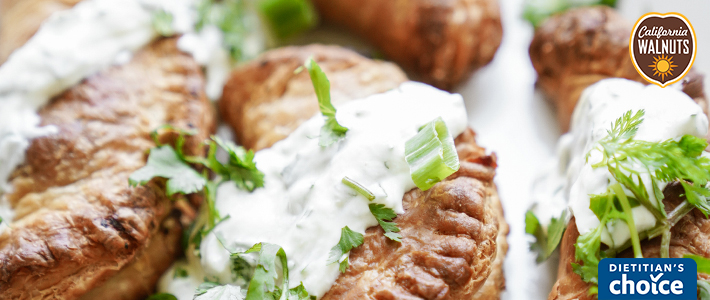 Walnut Meat Empanadas with Cilantro Lime Sauce
Cook Time
1 hour, 5 minutes
Total Time
1 hour, 35 minutes
Ingredients
Empanadas
1 C. of Assorted Sliced Mushrooms
1 C. California Walnuts
2 Tbsp. Olive Oil, plus additional for brushing surface
1/2 C. Finely Chopped Yellow Onion
3 Cloves Garlic, minced
1/2 C. Finely Chopped Roasted Red Pepper
1/2 C. Tomato Sauce or Puree
1 Tbsp. Soy Sauce
1/2 tsp. Pepper
1 tsp. Onion Powder
1 tsp. Smoked Paprika
1 tsp. Ground Cumin
1 tsp. Dried Oregano
1/2 tsp. Red Pepper Flakes
16 Small Empanada Skins or 4-inch Puffed Pastry or Pie Dough Circles*
Cilantro Lime Yogurt Sauce
2/3 C. Plain Greek Yogurt
1/2 of a Small Bunch Cilantro Leaves
1 Tbsp. Olive Oil
Juice of 1 lime
1/4 tsp. Sea Salt
1/4 tsp. Pepper
1 Clove Garlic, minced
*A 14.1-oz. packaged of refrigerated pie dough will yield 16 circles.
Instructions
Place mushrooms in a food processor and process until finely ground. Remove and add walnuts; process until finely ground.
Heat olive oil in a large skillet over medium heat. Add mushrooms, walnuts and onion; cook for 10 minutes or until the mixture is nicely browned and all liquid has evaporated, stirring frequently. Stir in garlic.
Add red pepper, tomato sauce, soy sauce and seasonings. Cook and stir for 5 minutes over medium heat. Set aside to cool.
Preheat oven to 350°F and line a baking sheet with parchment paper. Lay dough circles on a flat surface and spoon equal amounts of filling into the center of each. Brush the edges with a little water and fold in half. Crimp with a fork to seal in filling and place on baking sheet. Brush lightly with olive oil and bake for 20 to 25 minutes or until crisp and golden brown.
While empanadas are baking, place all dressing ingredients in a small blender or food processor and puree until smooth, or place ingredients in a deep bowl and puree with a stick blender.
Serve warm empanadas with yogurt sauce.
Notes
Recipe and image shared with permission by CA Walnuts. Original recipe by Maria Koutsogiannis.