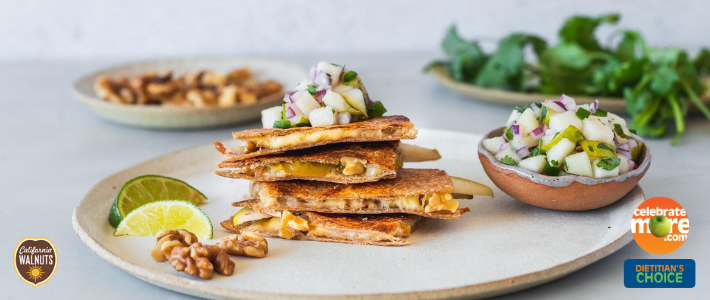 Walnut Pear Quesadilla with Spicy Pear Salsa
A savory snack size quesadilla with hint of sweet pear, and a spicy pear salsa. 
Serving Size
1/2 quesadilla, 1/4 cup of salsa
Ingredients
Pear Salsa
3/4 of Large, Firm (But Ripe) Pear, cored and cut into 1/2-inch pieces
2 Tbsp. Minced Red Onion
1 Tbsp. Fresh Cilantro, chopped
2 tsp. Lime Juice
1 Small Jalapeno Pepper, seeded and minced
Quesadilla
1/2 Cup Monterey Jack Cheese, shredded
1/3 Cup Chopped California Walnuts, toasted
2 (7-inch) Whole Wheat Flour Tortillas
1/4 of Large, (but firm), Ripe Pear, cut into 8 very thin slices
Instructions
Place all salsa ingredients in a small bowl; stir and set aside.
Place 1/4 cup cheese, half the walnuts and 4 pear slices on one side of each tortilla; fold over to enclose.
Place in a large skillet and cook over medium heat for 4 to 5 minutes on each side or until cheese is melted and tortilla is lightly browned and crisp.
Serve warm with salsa. Recipe may be doubled.
Notes
Recipe Tips:
Like a bit of spice? Toss walnuts in 1 to 2 teaspoons minced chipotle peppers in adobo sauce.

Like it mild? Replace the jalapeño pepper in the salsa with Anaheim or green bell pepper.
Recipe shared with permission from CA Walnuts