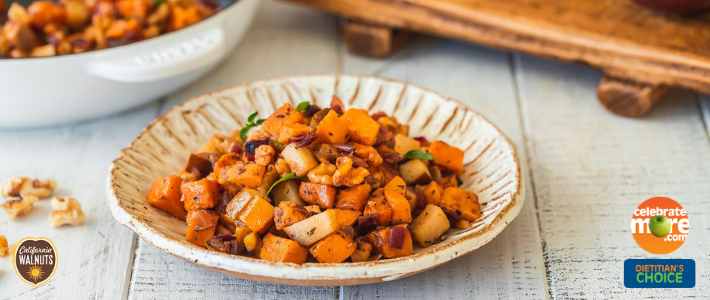 Sweet meets savory in this yam and pear side dish.
Ingredients
1 1/2 Tbsp. Canola Oil
3 1/2 Cups, peeled and cubed yam (about 3/4-in cubes)
1/2 Cup Chopped Onion
1/3 Cup Water
1/2 tsp. Dried Basil
1/4 tsp. Salt
1/4 Cup Water
3/4 Cup California Walnuts, coarsely chopped and toasted
1 Large Firm (but ripe) Pear (try a red Anjou pear!)
1 Tbsp. Balsamic Vinegar
Instructions
Heat oil in a very large nonstick skillet set over medium heat. Add yam and onion and cook for 15 minutes to lightly brown, stirring occasionally. Add water, basil and salt; cover and cook over low heat for 10 minutes more or until onion is very soft.
Remove cover and stir in walnuts and pear; cook for 5 minutes more or until pear is heated through and soft. Stir in vinegar and season with pepper.
Garnish with fresh basil, if desired.
Notes
Recipe shared with permission from CA Walnuts