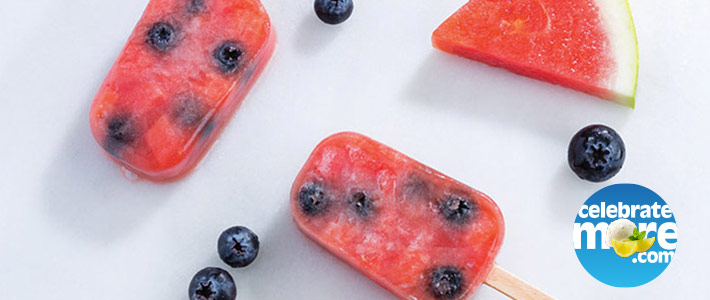 Watermelon-Blueberry Pops
Prep: 20 minutes plus freezing
Makes: 6 pops
Ingredients:

3/4 cup blueberries
1-1/2 tablespoons granulated sugar
1-1/2 teaspoons fresh lemon juice
Instructions:

In small bowl, toss 1 cup finely chopped watermelon and blueberries.
In blender or food processor with knife blade attached, purée sugar, lemon juice and remaining watermelon chunks.
Evenly divide watermelon-blueberry mixture into six 3-ounce ice pop molds; pour puréed watermelon into molds. Freeze pops at least 8 hours or up to 1 week.

Approximate nutritional values per serving:
45 Calories, 0g Fat, 0mg Cholesterol, 1mg Sodium,
12g Carbohydrates, 1g Fiber, 1g Protein

Helpful Tip:
To easily unmold pops, run molds under warm water for 10 seconds.