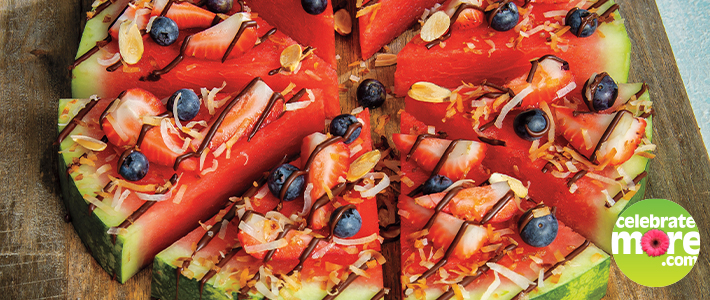 Ingredients
2 Tbsp Sliced Almonds
2 Tbsp Sweetened Coconut Flakes
½ Cup Dark Chocolate Chips
1 Round Watermelon Slice, cut 1-inch-thick from whole seedless watermelon
½ Cup Strawberries, hulled and quartered
¼ Cup Blueberries
Instructions
In large skillet, toast almonds and coconut over medium-high heat 4 minutes or until lightly browned and fragrant, stirring frequently; transfer to plate to cool.
In small microwave-safe bowl, heat chocolate chips in microwave oven on high 1 minute or until melted, stirring every 20 seconds.
Place watermelon on serving board; cut into 8 wedges. Drizzle watermelon with chocolate; sprinkle with strawberries, blueberries, almonds and coconut.
Percent Daily Values are based on a 2,000 calorie diet. Your daily values may be higher or lower depending on your calorie needs.