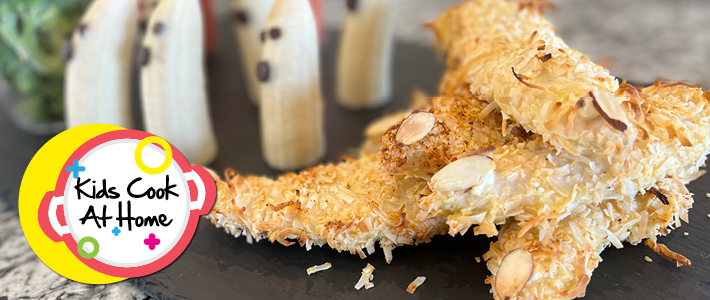 Werewolf Finger Chicken Strips
These oh-so-spooky chicken tenders are the perfect finger food! We recommend eating with a side of ketchup, to keep with the Halloween theme. 
Ingredients
1 Pkg. Chicken Tenders, about 1.5lbs
1/2 C. Flour
2 Eggs, beaten
1 1/2 C. Unsweetened Coconut Flakes
1/4 tsp. Garlic Powder
1/4 tsp. Smoked Paprika
1/4 C. Cream Cheese
Sliced Almonds, 1 for each "finger"
Instructions
Wash your hands with soap and water. Preheat the oven to 400°F. Place a nonstick wire rack onto a lined baking sheet.
Arrange 3 bowls – one with eggs, one with flour, and one with mixture of coconut flakes, garlic powder, smoked paprika, and pepper.
Dredge each chicken tender in the flour, dip into the egg, then press and roll in the coconut flakes.
Wash your hands with soap and water after handling raw chicken and eggs.
Spread a small dollop of cream cheese onto the sliced almond and press onto the end of the chicken tender to create the monster "nail".
Wash your hands with soap and water once more after handling raw chicken.
Bake the chicken tenders for 20 minutes. Have an adult take the temperature of your chicken, it should read 165°F.