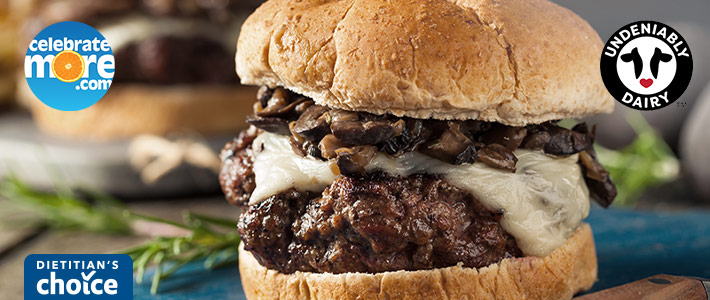 Ingredients
2 Lbs. 90% Lean Ground Beef
1/2 tsp. Black Pepper
1 Egg
1 C. Whole Grain Breadcrumbs
1/2 Lb. Four Brothers Horseradish Cheese, sliced
1 lb. Mushrooms
2 Tbsp. Olive Oil
Black Pepper, to taste
Whole Grain Hamburger Buns
Instructions
Make the burger patties: In a medium bowl, mix the beef, black pepper, egg, and breadcrumbs until evenly distributed.
Use your hands to form into 6 patties, about ¾ inch thick. Wash your hands thoroughly before moving to step 3.
Grill your burgers to an internal temperature of 165F, about 6-8 minutes per side.
Meanwhile, sauté your mushrooms: Using a medium pan, heat the olive oil over medium-high heat. Add the mushrooms and pepper, then sauté until the mushrooms are tender.
Place the cooked burger patty in a bun and top with horseradish cheese and mushrooms. Enjoy!
Notes
RD Tip: Put the cheese on top of your burger during the final stages of grilling for a meltier finish!
This Western Melt Burger is loaded up with bold flavors and great nutrition so you can feel good about eating it all summer long! Our dietitian's are adding new recipes all the time, so check out our Dietitians Choice Recipes page for all their latest recipes!
Shop from the comfort of your home! You can shop online at any of our proud family of stores for these recipe ingredients as well as the rest of your grocery list! We offer curbside pick up at all locations and delivery in select locations as well. Don't forget to connect your MORE Rewards account when you shop online for extra savings, digital coupons, and many other rewards too!
Shop Ingredients