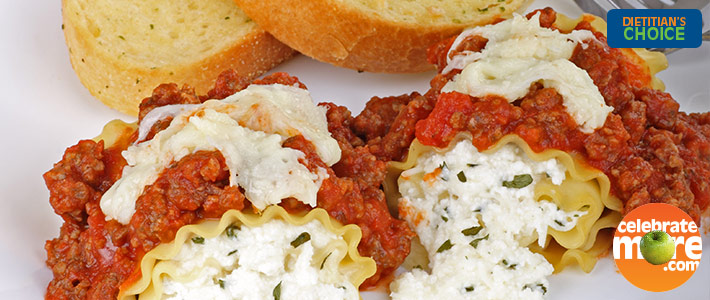 Whole Grain Lasagna Roll Ups
Ingredients
1 Lb. 93% Lean Ground Beef or Turkey, cooked
16 Oz. Package 100% Whole Grain Lasagna Noodles
2 C. Mozzarella Cheese, shredded
1 Cup Low-Fat / Part Skim Ricotta Cheese
2 Cups Fresh Spinach (or 10 Oz. Package Frozen Chopped Spinach, thawed, drained and squeezed dry)
1/2 Cup Parmesan Cheese
3 tsp Minced Garlic
28 Oz. Lower Sodium Pasta Sauce
Instructions
Cook lasagna noodles in boiling water for 5-8 minutes till just underdone. Drain and rinse.
In a mixing bowl, combine meat and all other ingredients, except pasta sauce.
On each lasagna noodle, spread a layer of cheese mixture evenly followed by a thin layer of pasta sauce.
Carefully roll noodle into spiral and place in a lightly greased 9x13 pan. Repeat with all noodles.
Bake at 350ºF for 30-35 minutes or until cooked through.