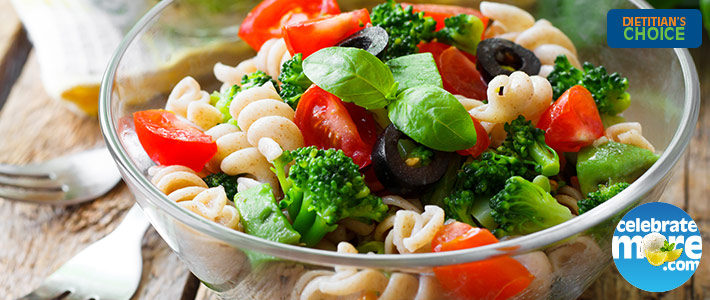 Ingredients
2 Cups 100% Whole Wheat Pasta
1 1/2 Cups Fresh Broccoli Florets
3/4 Cup Frozen Peas, thawed
2-3 Cup Cherry Tomatoes, halved
1 Cup Italian Vinaigrette Dressing
1 Tbsp. Fresh Basil, chopped (or 1 tsp dried)
8 Oz. Mozzarella Cheese, cubed
3/4 Cup Shredded Parmesan Cheese
Instructions
In a medium pot, add in about 6 Cups of water and bring to a boil. Once water is boiling, add in pasta and cook until al dente. In the last 5 minutes of cooking time, add in the broccoli.
Drain and rinse pasta and broccoli with cold water until completely cook.
In a large bowl, combine pasta, broccoli, peas, tomatoes, Italian dressing, basil, mozzarella cheese and Parmesan cheese. Stir together well.
Chill for 1 hour before serving.
Notes
Dietitian's Tips: Don't be afraid to add in more vegetables! Try sliced peppers, black or green olives, or even sliced cucumbers. Add an extra boost of protein with garbanzo beans, black beans, or grilled chicken.
Recipe provided by Reach Up Head Start Early Head Start Get more recipes here.