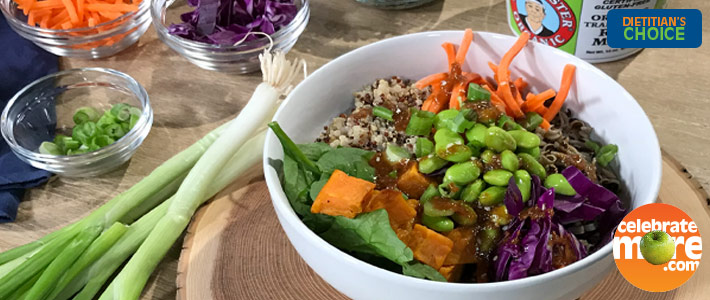 Ingredients
Base
1 Cup Quinoa, cooked
1 Cup Wild Rice, cooked
1 Cup Baby Spinach
1/2 Cup Grated Carrots
1/4 Cup Red Cabbage
1 Cup Sweet Potato, roasted
1/2 Cup Edamame, Cooked and Shelled
2 Tbsp Green Onions
1 Tbsp Sesame Seeds
Miso Lime Dressing
1 1/2 Tbsp Red Miso Paste
2 Tbsp Rice Vinegar
1 1/4 Tbsp Honey
1 Tbsp Fresh Minced Ginger Root
1 Tbsp Olive OIl
1 1/2 tsp Lime Juice
1 tsp sesame seeds
Instructions
Preheat the oven to 400 F. On a baking sheet, combine cubed sweet potato with 2 Tbsp of Olive Oil with salt and pepper. Combine well and roast in the oven for about 20-25 minutes or until easily pierced with a fork and lightly browned. Remove from oven and set aside.
While the sweet potatoes are roasting, cook quinoa, wild rice and edamame according to package instructions.
While items are cooking, easily prepare the Miso Lime dressing. In a small bowl, whisk together miso paste, rice vinegar, honey, ginger, olive oil, lime juice and sesame seeds. Set aside until ready to serve.
4.) Once all ingredients are prepared, divide quinoa, wild rice, roasted sweet potatoes, spinach, shredded carrots, and edamame (shelled) into two bowls. Garnish with green onions and sesame seeds. Top with Miso Lime Dressing.
Notes
Miso dressing adapted from Elaine