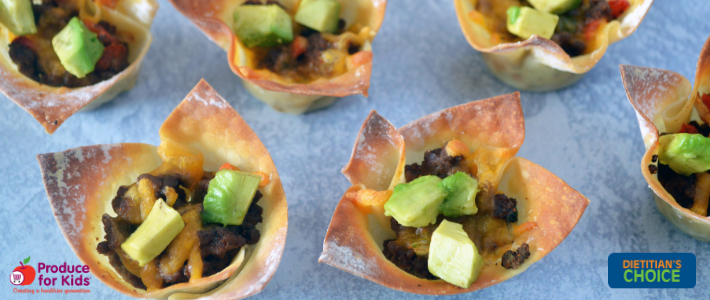 Ingredients
3/4 Lb. Lean Ground Beef
1 Tbsp. Low Sodium Taco Seasoning
1/2 Tomato
2 Mini Sweet Peppers
1/4 Small Sweet Onion
1 Tbsp. Chopped Cilantro
24 Wonton Wrappers
1/2 Cup Shredded Lowfat Cheddar Cheese
1 Avocado, chopped
Instructions
Preheat oven to 350F. Spray 24-cup mini muffin pan with nonstick cooking spray and set aside.
Heat large nonstick skillet over medium heat. Add ground beef and cook 5-7 minutes or until cooked through. Drain and return to pan. Add taco seasoning and mix well.
Add tomato, peppers, onion and cilantro to food processor and chop until fine (or finely chop by hand). Add to ground beef and mix well.
Line muffin pans with wonton wrappers, place 1 in each cup. Add taco mixture and top with cheese.
Bake 12-15 minutes, or until wontons start to brown on edges.
Top with avocado.