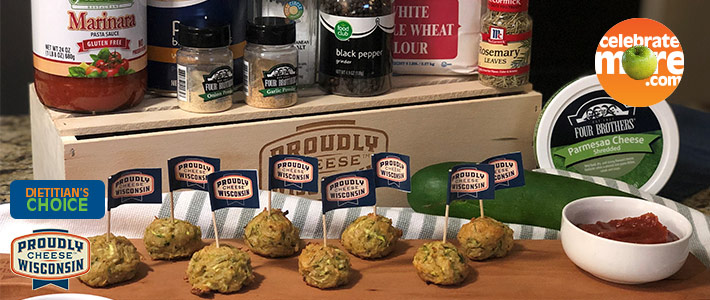 These Zippy Zucchini Bites are a fun way to add in some veggies. They make a great appetizer and a fun snack for kids to help make as well!
Ingredients
1 Zucchini, grated
2 Eggs, lightly beaten
½ Cup White Whole Wheat Flour
1 ½ tsp. Onion Powder
1 ½ tsp. Garlic Powder
1 tsp. Dried Rosemary
1 Cup Shredded Fresh Parmesan
Salt and pepper to taste
Instructions
Preheat oven to 425°.
Place grated zucchini on top of a cheesecloth or clean kitchen towel and wrap zucchini. Twist and squeeze cloth over kitchen sink to remove excess water. Once excess water is removed from zucchini, transfer to a large mixing bowl.
Add beaten eggs, flour, seasonings and parmesan to zucchini. Combine.
Using a tablespoon, scoop batter into lightly floured hands and roll into a 1-inch ball. Place on a lightly greased pan. Repeat until all batter is used.
Bake zucchini bites for 9-11 minutes or until golden and crispy.
Remove from oven and let cool for 5 minutes.