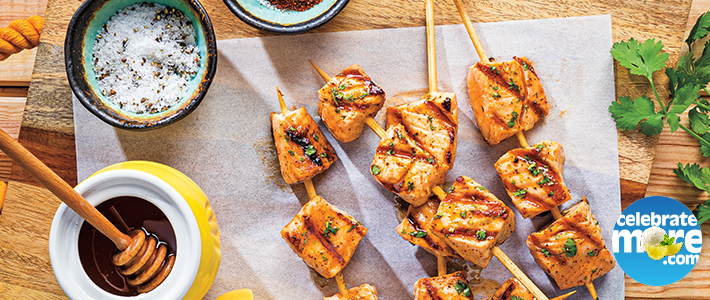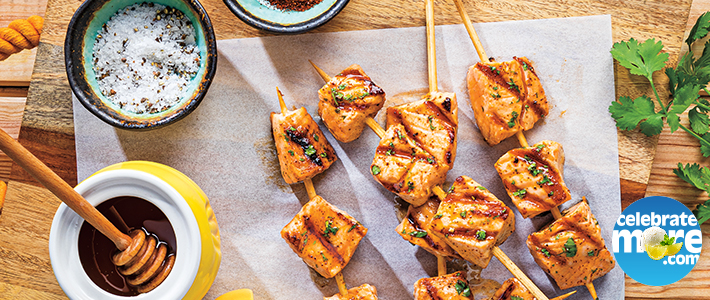 5-Ingredient Chipotle-Honey Salmon Skewers
Ingredients
8 (6-inch) Wooden Skewers
2 Tbsp. Honey
2 Tbsp. Olive Oil
1 tsp Chipotle Powder
1¼ Lbs. Salmon Fillets, skinless, cut into 1¼-inch chunks
2 Tbsp. Fresh Cilantro, chopped plus additional for garnish (optional)
Instructions
Prepare outdoor grill for direct grilling over medium-high heat; soak skewers in water 20 minutes. In medium bowl, whisk honey, oil, chipotle powder, ½ teaspoon kosher salt and ¼ teaspoon black pepper; fold in salmon and cilantro. Thread salmon onto skewers; reduce grill heat to medium.
Place kabobs on hot grill rack; cover and cook 6 minutes or until salmon turns opaque throughout and internal temperature reaches 145°, turning once. Serve kabobs sprinkled with cilantro, if desired.
Notes
You can substitute ½ teaspoon chili powder and ½ teaspoon smoked paprika for the 1 teaspoon chipotle powder.
Percent Daily Values are based on a 2,000 calorie diet. Your daily values may be higher or lower depending on your calorie needs.