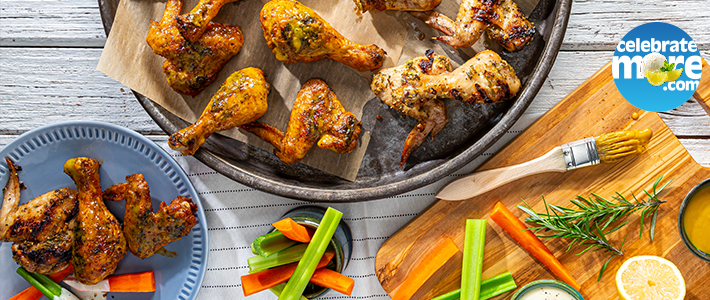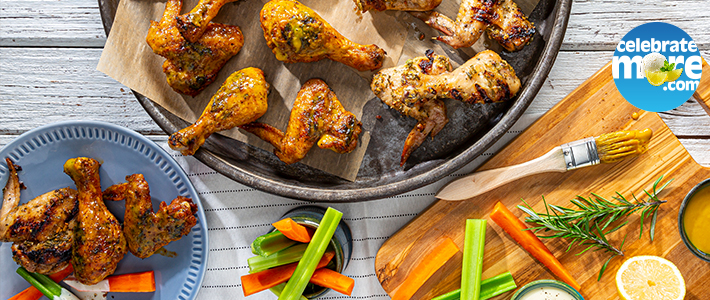 5-Ingredient Grilled Honey-Mustard Drumsticks & Wings
Serving Size
2 pieces of chicken
Ingredients
3 Tbsp. Favorite Barbeque Spice Rub
3 Tbsp. Olive Oil
8 Pieces Chicken Drumsticks and/or Whole Wings, bone-in, skin-on (about 3.25 pounds)
½ Cup Yellow Mustard
¼ Cup Honey
Instructions
Prepare outdoor grill for direct grilling over medium-high heat. In small bowl, stir dry rub, oil, ¼ teaspoon each kosher salt and black pepper. Pat chicken dry with paper towel; rub with oil mixture.
In separate small bowl, stir mustard and honey.
Place chicken on hot grill rack; cover and cook 20 minutes or until internal temperature reaches 165°, turning frequently. About 3 minutes before chicken is done, brush both sides of chicken with half the mustard mixture. Transfer to serving platter; brush with remaining mustard mixture.
Notes
Chicken can be rubbed with oil mixture, covered and refrigerated up to 1 day in advance.
Percent Daily Values are based on a 2,000 calorie diet. Your daily values may be higher or lower depending on your calorie needs.