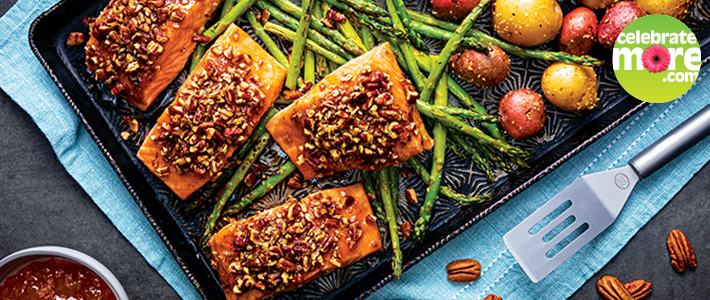 Apricot Pecan Crusted Salmon
Ingredients
Nonstick cooking spray
1 lb. Baby Potatoes
2 Tbsp. Food Club Unsalted Butter, melted
2 tsp. Minced Garlic
½ tsp. Kosher Salt
½ tsp. Ground Black Pepper
1 lb. Asparagus, trimmed
¼ C. Food Club Apricot Preserves
2 Tbsp. Less-Sodium Soy Sauce
4 Salmon Fillets (about 5 ounces each)
½ C. Chopped Pecans
Instructions
Preheat oven to 425°; spray rimmed baking pan with cooking spray. In large bowl, toss potatoes, 1 tablespoon butter, 1½ teaspoons garlic and ¼ teaspoon each salt and pepper; spread potatoes on prepared pan and roast 15 minutes.
In medium bowl, toss asparagus and remaining 1 tablespoon butter, ½ teaspoon garlic, and ¼ teaspoon each salt and pepper.
In small bowl, whisk preserves and soy sauce. Makes about 1/3 cup.
Push potato mixture to 1 side of pan; place asparagus mixture in center of pan. Place salmon on pan next to asparagus; brush with preserves mixture and gently press pecans onto salmon. Roast salmon and vegetables 15 minutes or until internal temperature of salmon reaches 145°, potatoes are tender, and asparagus is tender-crisp. Makes about 5 cups vegetables.
Notes
Approximate nutritional values per serving (1 salmon fillet, about 1¼ cups vegetables): 523 Calories, 26g Fat (6g Saturated), 105mg Cholesterol, 647mg Sodium, 36g Carbohydrates, 4g Fiber, 10 Sugars, 37g Protein