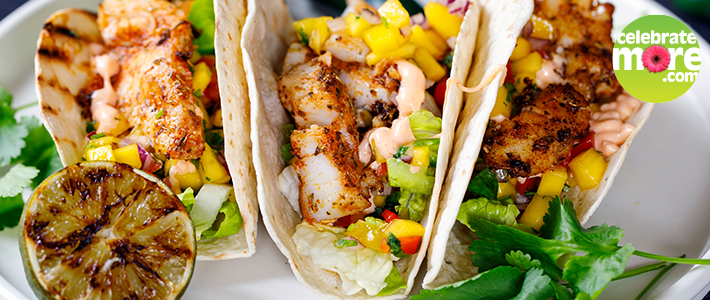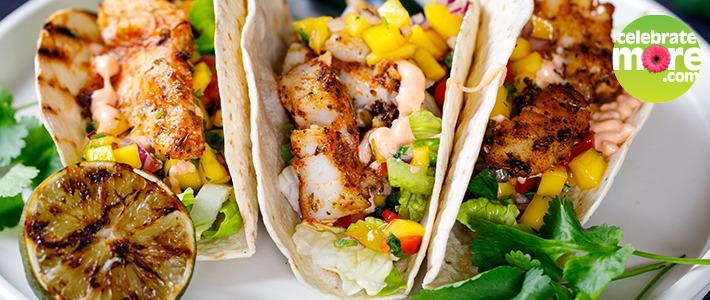 Grilled Tilapia Tacos with Fresh Mango Salsa
Ingredients
1 lb. Tilapia
1 Tbsp. Avocado Oil
1/2 tsp. Salt
2 tsp. Smoked Paprika
1/2 tsp. Garlic Powder
1/2 tsp. Onion Powder
1/8 tsp. Celery Seed
Corn or Flour Tortillas
Bolthouse Farms Cilantro Avocado Dressing
Fresh Mango Salsa
Instructions
Preheat the grill to medium-high heat (approximately 375°F). Be sure grill grates are clean.
In a small dish, combine salt, paprika, garlic powder, onion powder and celery seed.
Pat tilapia fillet dry with a clean paper towel. Gently coat the tilapia fillet with avocado oil and apply seasoning blend.
Grill tilapia fillets for 3-4 minutes on each side, until internal temperature reaches 145°F. Remove from the heat and let rest for 2 minutes. Cut fillet into 1-2 inch pieces.
Time to assemble the tacos! Place tilapia on the tortillas and drizzle some cilantro avocado dressing over the top. Garnish with a spoonful of fresh mango salsa. Enjoy!
Notes
Avocado oil has a high smoke point, which makes it great for grilling!