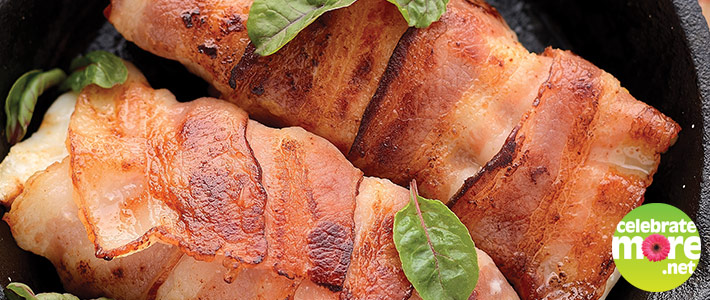 Bacon Wrapped Cod
Ingredients:
1 pound (500g) fresh cod fillet
Sea salt and freshly ground black pepper
3 ounces (90g) thinly sliced slab bacon, rind removed
1 Tbsp extra-virgin olive oil
For the Sauce:
1/2 cup fresh flat-leaf parsley leaves
1 shallot
1/4 cup extra-virgin olive oil
3 Tbsp capers
Directions:
Season cod with salt and pepper. Roll or fold the cod if needed and wrap bacon around it, securing with toothpicks. Cod should be completely covered with bacon except at corners.
In a heavy-bottomed skillet, heat olive oil over medium heat. Once oil is hot, add wrapped cod and brown it on all sides for about 5 minutes. Cover skillet and continue cooking about 16 minutes, turning occasionally, until cooked through.
Meanwhile, mince parsley and shallot into small bowl. Whisk in oil followed by coarsely chopped capers.
Once fish is cooked, transfer to a warmed serving platter and let rest for 4 minutes. Remove toothpicks and drain liquid. Cover with sauce and serve.