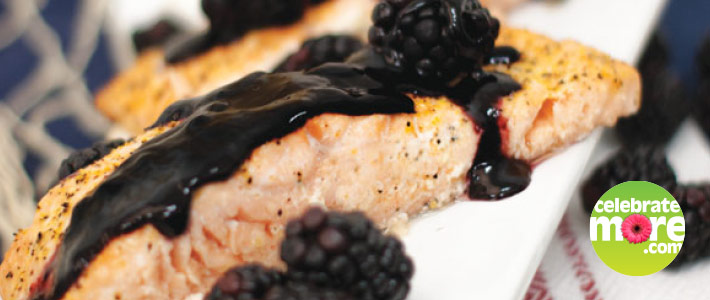 Baked Blackberry Glazed Salmon
Ingredients
1 Lb. Fresh Norwegian Salmon, cut into 4 pieces
Nonstick Cooking Spray
1 Tbsp. Lemon-Pepper Seasoning Salt
1/2 C. Seedless Blackberry Jam
3 Tbsp. Red Wine Vinegar
1 C. Fresh Blackberries
Instructions
Preheat oven to 450°F.
Lightly spray both sides of salmon pieces with cooking spray and rub on lemon-pepper seasoning salt. Place fish, skin side down, in pan.
Bake uncovered for 12 to 15 minutes or until internal temperature reaches 145°F.
Meanwhile, in a 1-quart saucepan, cook blackberry jam and vinegar over medium heat 2 to 3 minutes until jam is melted. Remove from heat; set aside.
Carefully lift fish from skin with spatula.
Serve salmon topped with blackberry glaze and berries.
Baked Blackberry Glazed Salmon is like nothing you've tasted before. The flavor of the blackberries makes this dish one to remember! Check out this Shrimp Scampi over Rice recipe for a tasty meal prep idea.
Shop from the comfort of your home! You can shop online at any of our proud family of stores for these recipe ingredients as well as the rest of your grocery list! We offer curbside pick up at all locations and delivery in select locations as well. Don't forget to connect your MORE Rewards account when you shop online for extra savings, digital coupons, and many other rewards too!
Shop Ingredients