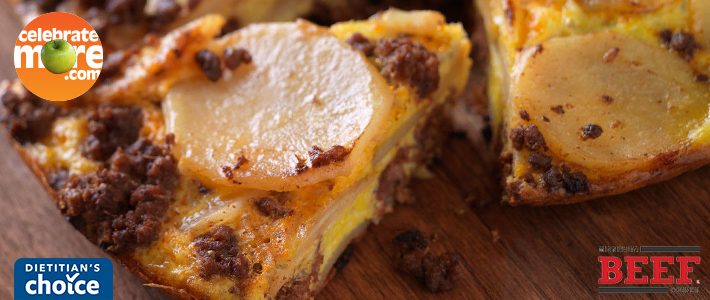 Beef and Potato Spanish Tortilla
Ingredients
Mexican-Style Beef Sausage
1 lb. Ground Beef (93% lean or leaner)
2 Tbsp. Red Wine Vinegar
1 1/2 tsp. Dried Oregano
1 1/2 tsp. Smoked Paprika
1 1/2 tsp. Chile Powder
1 tsp. Garlic Powder
1/2 tsp. Salt
1/2 tsp. Chipotle Chile Powder
---
2 Tbsp. Olive Oil
1-1/2 lbs. Peeled Russet (Baking) Potatoes, cut in half lengthwise, then crosswise into 1/8-inch slices
1 Medium Onion, thinly sliced
6 Large Eggs, Beaten
1/2 C. Shredded Manchego or Mexican blend cheese (optional)
Instructions
Preheat oven to 350°F. Prepare Mexican-Style Beef Sausage. Remove from skillet; keep warm.
Mexican-Style Beef Sausage: Combine 1 pound Ground Beef (93% lean or leaner), 2 tablespoons red wine vinegar, 1-1/2 teaspoons dried oregano, 1-1/2 teaspoons chile powder, 1-1/2 teaspoons smoked paprika, 1 teaspoon garlic powder, 1/2 teaspoon salt and 1/2 teaspoon chipotle chile powder in large mixing bowl mixing lightly but thoroughly. Heat large nonstick skillet over medium heat until hot. Add sausage mixture; cook 8 to 10 minutes, breaking into 1/2-inch crumbles, stirring occasionally.
Heat oil in same skillet over medium heat until hot. Add potatoes and onion; cover and cook 9 to 11 minutes or until onion and potatoes are tender and edges begin to brown, stirring frequently. Season with salt and pepper, as desired.
Return sausage to skillet; stir to combine. Pour eggs over sausage mixture; gently shaking pan to distribute eggs evenly.
Bake, uncovered, in 350°F oven 13 to 15 minutes or until eggs are set. Remove from oven; top with cheese, if desired. Let stand 2 to 4 minutes or until melted.
Notes
Recipe and image shared with permission from MN Beef Council.
Cook's Tip: Cooking times are for fresh or thoroughly thawed ground beef. Ground beef should be cooked to an internal temperature of 160°F. Color is not a reliable indicator of ground beef doneness.
Looking to try something different for breakfast? Combine Mexican-Style Beef Sausage with eggs, potatoes and onions for a unique and flavorful breakfast.
Beef and Potato Spanish Tortilla is a whole new way to experience the delectable combination of beef and potatoes! Mix up your breakfast routine with this tasty Sweet Potato Avocado Toast with Walnuts.
Shop from the comfort of your home! You can shop online at any of our proud family of stores for these recipe ingredients as well as the rest of your grocery list! We offer curbside pick up at all locations and delivery in select locations as well. Don't forget to connect your MORE Rewards account when you shop online for extra savings, digital coupons, and many other rewards too!
Shop Ingredients