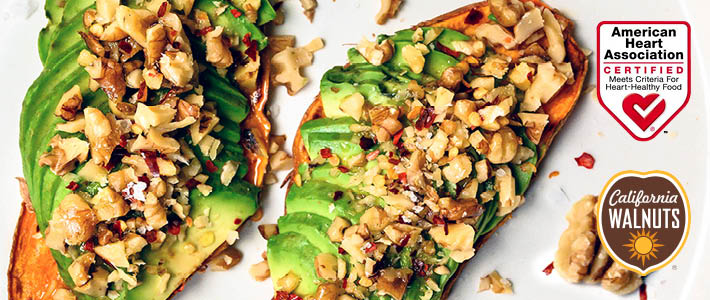 Sweet Potato Avocado Toast with Walnuts
Serving Size
1/4 Sweet Potato
Ingredients
2 Sweet Potatoes
2 Avocados, thinly sliced
1/2 C. Walnuts, diced
1-1/2 tsp. Red Pepper Flakes, plus more if desired
4 tsp. Extra-Virgin Olive Oil
3/4 tsp. Flaky Salt
Instructions
Slice a small plank off one side of each sweet potato lengthwise. This will act as a base, so you can cut the sweet potato into toast slices easily. Prop the sweet potato on the flat side you created and slice each potato into planks about 1/4 inch thick. Prepare the sweet potato by following the toaster or oven preparation instructions below.
For toaster preparation, pop the sweet potato planks in the toaster and toast until tender. This may take a few times, depending on your toaster.
For oven preparation, preheat your oven to 350° F. Lay the sweet potato planks on a baking sheet and spray with cooking spray. Roast for 6-7 minutes per side, until they are easily pierced with a fork.
When they're done toasting, lay the sweet potato toasts on plates and top with sliced avocado. Mash the avocado gently with a fork. Sprinkle with diced walnuts, red pepper flakes and drizzle with olive oil. Top with flaky salt.
Notes
Recipe and photo shared with permission by CA Walnuts 
Ditch traditional bread for sweet potato slices for this gluten-free take on classic avocado toast. Diced walnuts offer some added crunch while red pepper flakes kick things up with a little heat.
Sweet Potato Avocado Toast with Walnuts takes the avocado toast trend to a whole new level of delicious and nutritious! Add more variety to your morning with this
Beef and Potato Spanish Tortilla
recipe.
Shop from the comfort of your home! You can shop online at any of our proud family of stores for these recipe ingredients as well as the rest of your grocery list! We offer curbside pick up at all locations and delivery in select locations as well. Don't forget to connect your MORE Rewards account when you shop online for extra savings, digital coupons, and many other rewards too!
Shop Ingredients