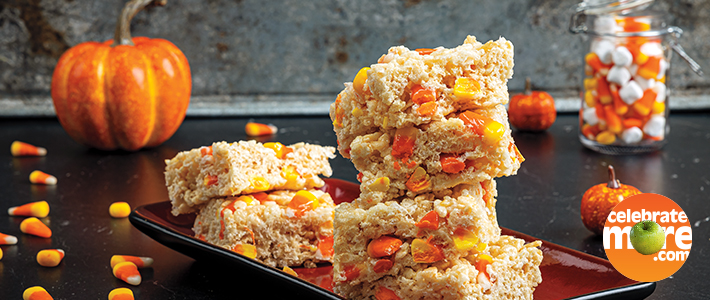 Candy Corn Marshmallow Cereal Treats
Ingredients
Nonstick cooking spray
1 Bag (10 Oz.) Mini Marshmallows
5 Tbsp. Unsalted Butter
5 Cups Crispy Rice Cereal
1 Cup Candy Corn
Instructions
Line 13 x 9-inch baking dish with aluminum foil so that foil extends about 2 inches over sides of dish; spray with cooking spray.
In large saucepot, melt marshmallows and butter over medium-low heat; fold in cereal and candy corn. Firmly press marshmallow mixture into even layer in prepared dish; refrigerate 2 hours.
Using overhanging sides of foil, transfer cereal bar to cutting board and remove foil; cut into 16 bars.
Percent Daily Values are based on a 2,000 calorie diet. Your daily values may be higher or lower depending on your calorie needs.