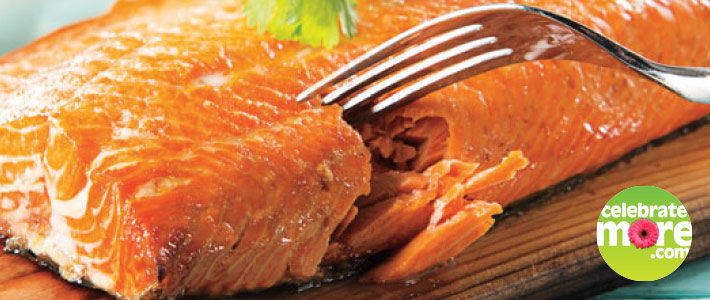 Cedar Planked Salmon with Jalapeño-Corn Salsa
Ingredients
1 Cedar Grilling Plank
2 Ears of Corn, silks and husks removed
2 Jalapeño Peppers
4 tsp. Extra Virgin Olive Oil
3 Tbsp. Red Onion, finely chopped
2 Tbsp. Fresh Cilantro Leaves, coarsely chopped
2 Tbsp. Fresh Lime Juice
3/4 tsp. Salt
1/4 tsp. Ground Chipotle Powder
1-1/2 Lb. Fresh Salmon Fillet
1 Tbsp. Fresh Lemon Juice
Instructions
Immerse plank in warm water at least 30 minutes. Prepare outdoor grill for direct grilling over medium-high heat.
Coat corn and jalapeños with 2 teaspoons oil. Place corn and jalapeños on hot grill rack; cover and cook 5 minutes, turning frequently to brown all sides. When cool enough to handle, cut corn from cob. Cut jalapeños lengthwise in half; with knife, scrape out seeds and veins then finely chop.
In medium bowl, toss onion, cilantro, lime juice, 1/2 teaspoon salt, chipotle powder, corn and jalapeños. Makes about 2 cups.
Place salmon, skin side down, on plank and rub remaining 2 teaspoons oil over top; sprinkle with remaining 1/4 teaspoon salt. Place plank with salmon on hot grill rack; cover and cook 15 to 20 minutes or until salmon turns opaque throughout and internal temperature reaches 145°. Drizzle salmon with lemon juice and top with salsa to serve.
Percent Daily Values are based on a 2,000 calorie diet. Your daily values may be higher or lower depending on your calorie needs.
Cedar Planked Salmon with Jalapeño-Corn Salsa will send your taste buds on a journey of flavors and you'll definitely be wanting more! Switch up your seafood with this Dill Seared Tuna recipe.
Shop from the comfort of your home! You can shop online at any of our proud family of stores for these recipe ingredients as well as the rest of your grocery list! We offer curbside pick up at all locations and delivery in select locations as well. Don't forget to connect your MORE Rewards account when you shop online for extra savings, digital coupons, and many other rewards too!
Shop Ingredients