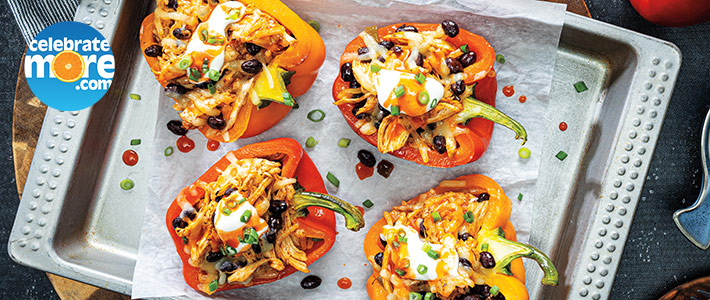 Cheesy BBQ Chicken & Black Bean-Stuffed Peppers
Ingredients
4 Medium Red, Yellow or Orange Bell Peppers, Halved Through Stem and Seeded
Nonstick Cooking Spray
15.5 oz. Low Sodium Black Beans, Drained and Rinsed
4 oz. Diced Green Chiles
2 C. Shredded Monterey Jack Cheese
2 C. Shredded Rotisserie Chicken Meat
1/2 C. BBQ Sauce
Sliced Green Onions, Hot Sauce and/or Sour Cream for Garnish (optional)
Instructions
Preheat oven to 425°F; line rimmed baking pan with parchment paper. Place peppers, cut side down, on prepared pan; spray with cooking spray. Roast 13 minutes or until tender-crisp; turn peppers cut side up.
In large bowl, stir beans, chiles, 1½ cups cheese, chicken and sauce.
Fill peppers with chicken mixture; sprinkle with remaining ½ cup cheese and roast 7 minutes or until cheese is melted. Serve peppers topped with green onions, hot sauce and/or sour cream, if desired.