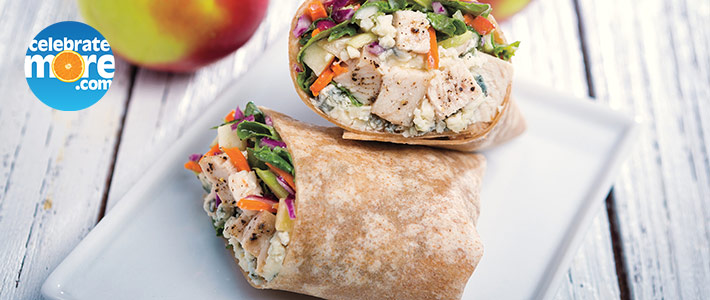 Chicken & Apple-Kale Slaw Wrap
Add dried cherries and/or toasted pecans for extra flavor and texture.
Ingredients
3 Tbsp. Plain Nonfat Greek Yogurt
1 Tbsp. Fresh Lemon Juice
2 tsp. Honey
1/4 tsp. Salt
1/4 tsp. Ground Black Pepper
1 1/4 C. Broccoli Coleslaw
1/2 C. Chopped Apple
1/2 C. Packed Baby Kale
1/4 C. Thinly Sliced Red Onion
4 Whole-Grain Sandwich Wraps
2 C. Chopped Rotisserie Chicken Meat
1/4 C. Crumbled Blue Cheese
Instructions
In medium bowl, whisk yogurt, lemon juice, honey, salt and pepper; add coleslaw, apple, kale and onion and toss to combine. Fill wraps with chicken, cheese and coleslaw mixture.