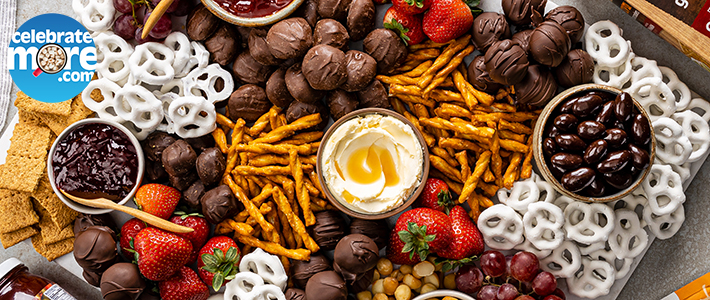 Chocolate Celebrations Board
Beautiful boards for every occasion! This is the ultimate dessert board and it has something for everyone!
Ingredients
3 C. Four Brothers® Premium Sweetened Flaked Coconut
1/4 C. Sweetened Condensed Milk
2 Tbsp. Coconut Oil, melted
1 tsp. Vanilla Extract
1/2 C. Powdered Sugar
1/2 (20-ounce) Pkg. Chocolate-Flavored Almond Bark
1/2 C. Mascarpone Cheese
1/4 C. Four Brothers® Pure Maple Syrup
1/2 C. Four Brothers® Dark Chocolate Almonds
1/2 C. Four Brothers® Premium Roasted & Salted Macadamia Nuts
1/2 C. Four Brothers® Seedless Red Raspberry Spread
1/2 C. Four Brothers® Strawberry Rhubarb Spread
1/2 lb. Red Grapes
1 Box (6 ounces) Four Brothers® Premium Chocolate Alligators
1 Pkg. (3 ounces) Four Brothers® Dark Chocolate Creamy Orange Sorbet Retreats
1/2 (16-ounce) Pkg. Strawberries
6 Crav'n Flavor™ Cinnamon Graham Crackers, quartered
1 Medium Pear, halved, cored and thinly sliced
1 C. Four Brothers® Frosted Pretzels
1 C. Four Brothers® Original Homestyle Gourmet Pretzels
Instructions
Line rimmed baking pan with parchment paper. In food processor, pulse coconut until small crumbs remain. In large bowl, stir condensed milk, coconut oil and vanilla extract; fold in sugar and coconut. Cover and refrigerate 30 minutes.
Roll coconut mixture into 24 (1 1/2-inch) balls; place on prepared pan and freeze 1 hour.
Melt almond bark according to package directions. Use 2 forks to dip balls in almond bark to completely cover, allowing excess to drip off; place on same pan. Reheat almond bark as necessary if it begins to harden. Refrigerate truffles 30 minutes or until hardened. Makes 24 truffles.
In small bowl, stir mascarpone and maple syrup. Makes about 3/4 cup.
Place almonds, macadamia nuts, red raspberry spread, strawberry rhubarb spread and mascarpone mixture in 5 small bowls; place bowls on large wooden board or serving platter. Arrange grapes, alligators, retreats, strawberries, crackers, pear, pretzels and truffles around bowls on platter.
Notes
Approximate nutritional values per serving (1/14 of board): 599 Calories, 32g Fat, 18g Saturated Fat, 15mg Cholesterol, 244mg Sodium, 79g Carbohydrates, 5g Fiber, 61g Sugars, 54g Added Sugars, 5g Protein
Shop Ingredients