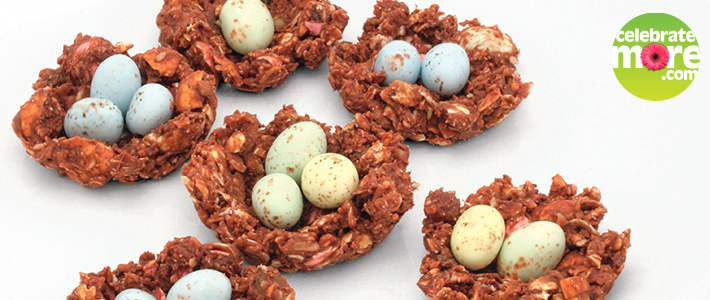 Ingredients
4 1/2 C. Mini Marshmallows
4 Tbsp. Unsalted Butter
1 C. Semisweet Chocolate Chips
4 C. Old-fashioned Rolled Oats
Candy for decorating nests (optional)
Instructions
In large saucepot, heat marshmallows and butter over medium heat 5 minutes or until melted and smooth, stirring occasionally. Add chocolate chips and stir with wooden spoon until chocolate melts and mixture is well combined. Remove saucepot from heat; stir in oats.
Line baking sheet with waxed paper. Using gloves or moist hands, form chocolate-oat mixture into 1½-inch balls and place on prepared baking sheet. To form each ball into a nest, place ball in palm of hand; press down on center of ball with fingers to flatten ball and form indentation in the center. Place nests back on baking sheet and cool completely.
Transfer nests to airtight container and store at room temperature up to 3 days. Fill nests with candy, if desired, just before serving.
These Chocolate Nests are a fun and festive treat to make with the kids this Easter – and they're super cute too! They will look even more adorable next to these Bird's Nest Cupcakes… try them both!
Shop from the comfort of your home! You can shop online at any of our proud family of stores for these recipe ingredients as well as the rest of your grocery list! We offer curbside pick up at all locations and delivery in select locations as well. Don't forget to connect your MORE Rewards account when you shop online for extra savings, digital coupons, and many other rewards too!
Shop Ingredients