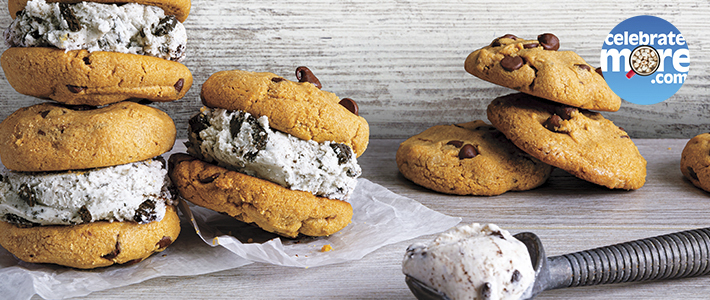 Cookies & Cream-Peanut Butter Ice Cream Sandwiches
Ingredients
1 Large Egg
1 Cup Sugar
1 Cup Creamy Peanut Butter
½ Cup Dark Chocolate Chips
1 Cup Cookies 'n Cream Ice Cream
Instructions
Preheat oven to 350°F; line 2 rimmed baking pans with parchment paper. In medium bowl, stir egg, sugar and peanut butter; fold in chocolate chips.
Roll dough into 1½-inch balls; place, 2 inches apart, on prepared pans. Gently press each ball to flatten slightly to about 1-inch thick; bake 12 minutes or until edges are set and bottoms are lightly browned. Cool cookies on pans 10 minutes; transfer to wire rack to cool completely. Makes about 16 cookies.
Sandwich 2 tablespoons ice cream between 2 cookies; repeat to make 7 more sandwiches. Serve immediately or freeze on parchment-lined cookie sheet 2 hours; transfer to a freezer-safe airtight container and freeze up to 1 month.
Percent Daily Values are based on a 2,000 calorie diet. Your daily values may be higher or lower depending on your calorie needs.