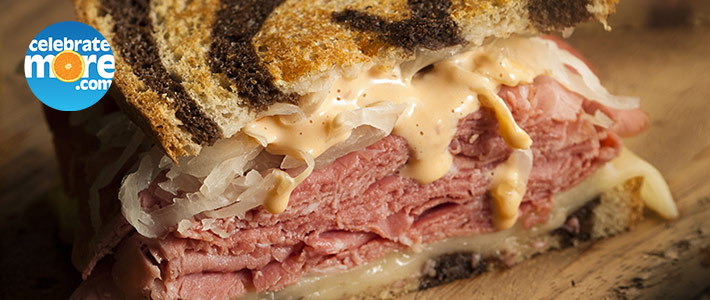 Ingredients
2 Oz. Buddig Corned Beef
1/4 tsp. Butter or Pan Spray
1 Tbsp. Thousand Island Dressing
1/4 tsp. Creamy Horseradish (optional)
2 Large Slices of Bread
1 Slice Swiss Cheese
1/2 C. Sauerkraut
Instructions
Preheat grill pan over medium heat. Once hot, lightly run a stick of butter along the raised parts of the grill pan to keep the bread from sticking and ensure nice brown grill marks.
Prepare sauce: in a small bowl, blend dressing and horseradish, if desired.
Lightly grill bread on one side to create a barrier that will prevent sauerkraut and sauce from saturating the bread.
Flip bread over to grill the outside. Reapply small amount of butter, if needed. Spread sauerkraut in an unused section of the grill pan to warm.
While the outside of the bread is grilling and sauerkraut is warming, layer on your sandwich ingredients: Buddig Corned Beef on one side of bread, Swiss cheese on the other. Add warmed sauerkraut on top of Buddig Corned Beef.
When sandwich has desired grill marks and is warmed throughout, add dressing/sauce on top of sauerkraut, and place the cheese-covered bread slice on top. Remove from heat and rest for 2 minutes.
This Corned Beef Sandwich from Buddig is bursting with flavor! It's great any time of the year and perfect for celebrating St. Paddy's Day! Or stick with a more traditional meal of Corned Beef & Cabbage. You really can't go wrong!
Shop from the comfort of your home! You can shop online at any of our proud family of stores for these recipe ingredients as well as the rest of your grocery list! We offer curbside pick up at all locations and delivery in select locations as well. Don't forget to connect your MORE Rewards account when you shop online for extra savings, digital coupons, and many other rewards too!
Shop Ingredients