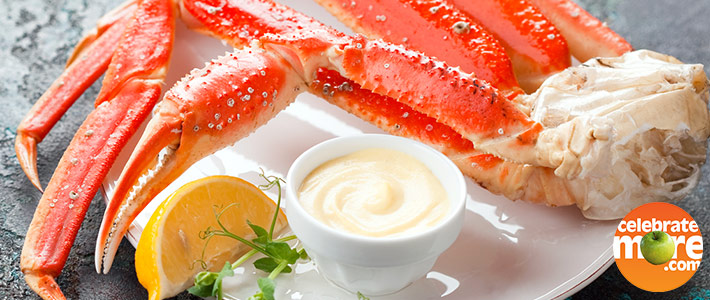 Crab Legs with Dipping Sauces
Ingredients
Crab Legs
1 - 1½ Lbs. Frozen Pre-Cooked Crab Legs
3 Cloves Garlic, minced
1 Lemon, sliced
2-3 Sprigs Parsley
1 Bay Leaf
Clarified Butter
Warm Dill Mayo
1 C. Mayonnaise
2 Tbsp. Chopped Fresh Dill
2 Tbsp. Fresh Lemon Juice
1/2 tsp. Granulated Sugar
1/2 tsp. Worcestershire Sauce
1/4 tsp. Salt
1/4 tsp. Ground Black Pepper
Lemon Butter Sauce
4 Garlic Cloves
1/4 C. Fresh Lemon Juice
1 tsp. Fresh Thyme Leaves
1/2 tsp. Salt
1/2 tsp. Ground Black Pepper
1 C. Unsalted Butter, cut into small pieces
Instructions
Bake:
Preheat oven to 350°. In a large baking dish or pan, add garlic, lemon, parsley and bay leaf. Add the crab legs and pour 3 cups water over the legs. Bake 10 minutes or until heated through.
Boil:
Heat a large, covered saucepot of salted water to a boil over high heat. Submerge the crab legs in the water, cover and cook 5 minutes or until heated through.
Transfer the hot crab legs to a large bowl, cover with a clean dish towel to keep warm and serve.
Clarified Butter:
In small saucepot, heat 1 cup unsalted butter (2 sticks), cut into small pieces, over low heat 2 minutes or until melted. (Or, heat butter in small microwave-safe bowl in microwave oven on high 1-1/2 minutes or until melted.) With large spoon, skim off and discard foam from top of melted butter. Makes about 1 cup.
Warm Dill Mayo:
In small saucepot, heat mayonnaise over low heat 2 minutes or until warm, whisking constantly; do not let mayonnaise boil. Stir in dill, lemon juice, sugar, Worcestershire, salt and pepper; remove from heat and transfer to serving bowl. Makes about 1 cup.
Lemon Butter Sauce:
In blender, purée garlic, lemon juice, thyme, salt and pepper 1 minute or until well combined, occasionally scraping sides of blender with rubber spatula.
In small microwave-safe bowl, heat butter in microwave oven on high 1-1/2 minutes or until melted. With blender running, slowly pour in melted butter and purée 30 seconds or until mixture is smooth; transfer to serving bowl. Makes about 1 cup.
Notes
Removing crabmeat from the shells can be a bit tricky. Breaking the crab legs at the joints loosens crabmeat free from the cartilage, helping to remove the meat in whole pieces. Follow these simple steps to enjoy every last morsel.
Break crab legs apart at their joints.
Use scissors to cut through the shells lengthwise to expose the crabmeat.
Extract the crabmeat from the shells with a seafood fork.
Sauces can be prepared and refrigerated up to 1 day in advance. Reheat in microwave oven before serving.
Don't let crab legs intimidate you, they're very easy to prepare. Frozen crab legs are pre-cooked and essentially just need to be reheated in the oven or boiled. Depending on the size and type of crab legs, adjust the cooking time as necessary. Plan for about 1 to 1½ pounds of frozen pre-cooked crab legs to serve 2.
This Crab Legs with Dipping Sauces recipe is perfect if it's your first time making crab legs. It has helpful tips and 3 sauce options! Want a bit more of a challenge? Try this Lobster Newburg recipe for another tasty seafood meal.
Shop from the comfort of your home! You can shop online at any of our proud family of stores for these recipe ingredients as well as the rest of your grocery list! We offer curbside pick up at all locations and delivery in select locations as well. Don't forget to connect your MORE Rewards account when you shop online for extra savings, digital coupons, and many other rewards too!
Shop Ingredients