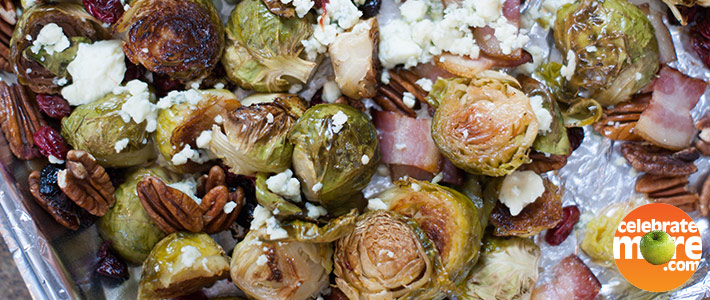 Cranberry Brussels Sprouts with Bacon
Ingredients
1 ½ Cups Cranberries
2 Tbsp Brown Sugar
1 ½ Lbs. Brussel Sprouts, trimmed, cut lengthwise in half
4 Slices Four Brothers Bacon, cut into 1-inch pieces
½ Cup Pecan Halves
1/3 Cup Crumbled Blue Cheese
Instructions
Heat oven to 425ºF.
Cover rimmed baking sheet with foil, spray with cooking spray.
Spread cranberries onto 1/2 of the prepared baking sheet; sprinkle with sugar.
Place Brussel Sprouts, cut side down, on remaining part of baking sheet; top with bacon.
Bake 30 minutes, adding nuts to baking sheet after 20 minutes.
Stir ingredients on baking sheet until combined; sprinkle with blue cheese.