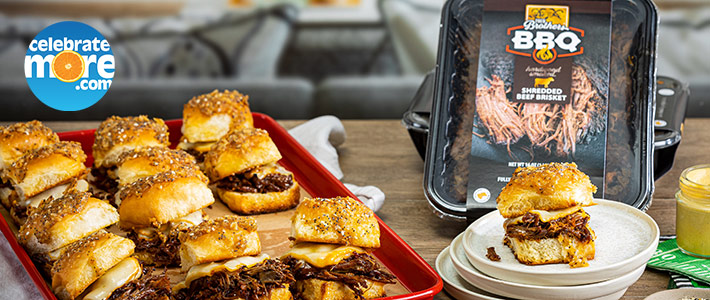 Crispy Onion & Everything-Seasoned Baked Sliders
Ingredients
12 oz Original Hawaiian Sweet Rolls
16 oz Four Brothers® BBQ Shredded Beef Brisket, Pulled Chicken or Pulled Pork
3 Slices Muenster Cheese, Quartered
1/4 C. Unsalted Butter
1/2 C. Coarsely Crushed Crispy Fried Onions
1/4 C. Packed Brown Sugar
2 Tbsp. Dijon Mustard
1 Tbsp. Everything Seasoning
Instructions
Preheat oven to 400°F; line rimmed baking pan with parchment paper. Place bottom halves of rolls, cut side up, on prepared pan; top with brisket, cheese and top halves of rolls.
In small saucepot, melt butter over medium heat; stir in onions, sugar, mustard and seasoning.
Brush top halves of rolls with butter mixture; bake sliders 12 minutes or until tops are lightly browned.
Notes
Serve sliders with barbeque sauce, if desired. 
Shop Ingredients