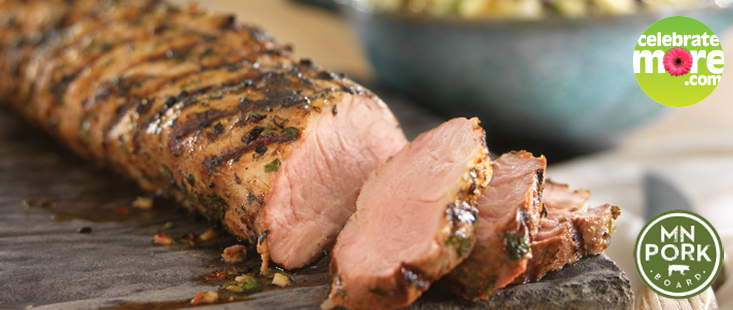 Ingredients
1 1/2 Lbs. Pork Tenderloin, trimmed
1/4 C. Freshly Squeezed Orange Juice
1/4 C. Freshly Squeezed Grapefruit Juice
2 Tbsp. Cilantro, chopped
1 tsp. Cumin
1 tsp. Dried Oregano
2 Cloves Garlic, finely chopped
1/2 tsp. Kosher Salt
1/2 tsp. Red Pepper Flakes
Instructions
Using thin knife, trim silver skin from tenderloin. Mix orange juice, grapefruit juice, cilantro, cumin, oregano, garlic, salt, and hot pepper in gallon-sized zip-top plastic bag. Add pork, close, and refrigerate for at least 30 minutes and up to 4 hours. Meanwhile, make Rice and Black Bean Salad.
Prepare outdoor grill for direct medium-hot grilling. For a gas grill, preheat grill on high. Adjust temperature to 400°F. For a charcoal grill, build fire and let burn until coals are covered with white ash. Spread coals and let burn for 15-20 minutes.
Lightly oil cooking grate. Remove pork from marinade, drain briefly, but do not scrape off solids. Place on grill and cover grill. Cook, turning occasionally, until browned and instant-read thermometer inserted in center of pork reads 145 degrees Fahrenheit, about 20-27 minutes. Transfer to carving board and let stand 3-5 minutes. Cut on slight diagonal and serve with rice and black bean salad.
Notes
Recipe provided with permission from Pork Board
Ready in 30 minutes | Carb-friendly | Free from Eggs | Free from Gluten | Free from Dairy
This Cuban Pork Tenderloin will be a great addition to your meal plan this week! It's super tasty and the whole family will love it! Another great option for an easy weeknight meal is this Slow Cooker Pork Roast with Apples and Onions.
Shop from the comfort of your home! You can shop online at any of our proud family of stores for these recipe ingredients as well as the rest of your grocery list! We offer curbside pick up at all locations and delivery in select locations as well. Don't forget to connect your MORE Rewards account when you shop online for extra savings, digital coupons, and many other rewards too!
Shop Ingredients