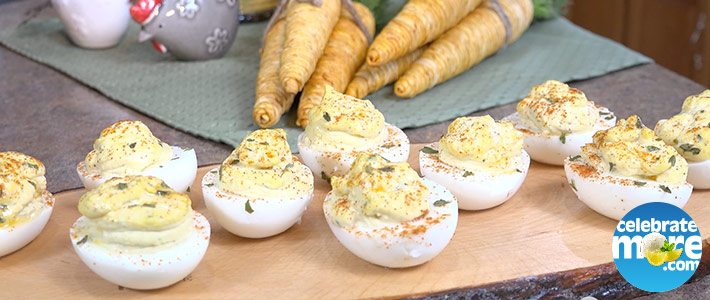 Ingredients
1/2 Cup Mayo
2 Tbsp 2% Milk
1 tsp Dried Parsley Flakes
1/2 tsp Dill Weed
1/2 tsp Minced Chives
1/2 tsp Ground Mustard
1/4 tsp Salt
1/4 tsp Paprika
1/8 tsp Garlic Powder
1/8 tsp Pepper
12 Hard-Boiled Large Eggs
Minced Fresh Parsley & Paprika for Garnish, optional
Instructions
In small bowl, mix spices in with mayo and milk. Set aside.
Cut eggs in half lengthwise; remove yolks and set egg whites aside.
In separate bowl, mash egg yolks. Add mayo mixture to yolks and mix well.
Spoon or pipe filling into hollow part of egg whites.
Garnish with parsley and Paprika. Keep refrigerated until serving.