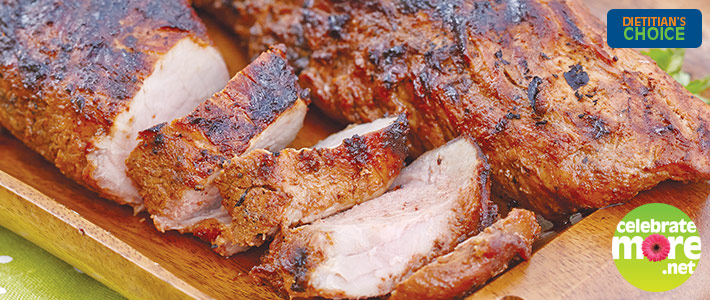 Dijon Crusted Pork Tenderloin And Brussels Sprouts
Ingredients:
1 1/2 – 2 Lb. Pork Tenderloin
1 1/2 Tbsp. Dijion Mustard, plus more for seasoning
1/2 Cups whole Wheat Bread Crumbs
2 tsp Thyme Leaves
3 Tbsp. Olive Oil
1 Lb. Brussels Sprouts, cut in half length-wise
Salt & Peper for seasoning
Directions:
Preheat oven to 400ºF. Line 2 baking sheets with parchment paper.
Place pork tenderloin in center of one baking sheet. Rub with dijon mustard. In small bowl, stir together breadcrumbs, thyme, salt and pepper. Gently press breadcrumb mixture into surface of pork to cover completely. Drizzle with 1 Tbsp of olive oil.
Arrange Brussels sprouts on second baking sheet and drizzle remaining olive oil over Brussels sprouts and lightly season with salt and pepper.
Place baking sheets in oven and roast until internal temperature of pork is 150ºF and Brussels sprouts are golden brown, about 20 minutes.
Remove from oven and let pork rest for 5 minutes. Slice and serve with Brussels Sprouts and dijon mustard.
Dietitian's Tips:
Substitue brussels sprouts for your favorite roasted vegetable to make it your own!
Did you know that in a 3 ounce serving of pork there is 24 grams of protein?