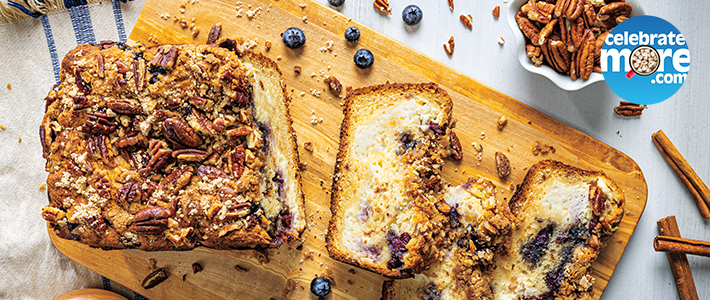 Easy Blueberry-Pecan Streusel Loafew recipe
Total Time
1 hour, 15 minutes
Ingredients
1 Package (8 Oz.) Cream Cheese, softened
3 Large Eggs
½ Cup Powdered Sugar
1 Package (13.9 Oz.) Cinnamon Streusel Muffin Mix
¼ Cup Vegetable Oil
1 Cup Blueberries
½ Cup Chopped Pecans
Instructions
Preheat oven to 350°F; line 9 x 5-inch loaf pan with parchment paper. In medium bowl, with mixer on medium speed, beat cheese, 1 egg and sugar 2 minutes or until incorporated.
Prepare muffin mix batter as label directs using water and/or oil and remaining 2 eggs; fold in blueberries.
Pour ½ the muffin batter into prepared pan; top with cheese mixture, remaining muffin batter, pecans and streusel from muffin mix. Bake loaf 1 hour or until toothpick inserted in center comes out clean; cool completely in pan on wire rack. Remove from pan; cut into 12 (¾-inch-thick) slices.
Percent Daily Values are based on a 2,000 calorie diet. Your daily values may be higher or lower depending on your calorie needs.