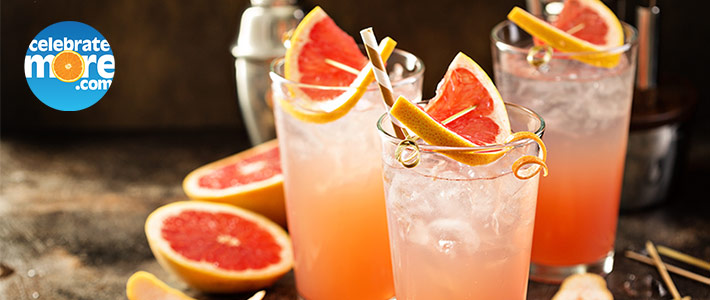 Ingredients
1 C. Club Soda, chilled
3/4 C. Granulated Sugar
3 C. Ice
2 C. Grapefruit Juice, chilled
1 1/2 C. Gin
1/2 C. Fresh Lemon Juice, chilled
1/2 C. Sweet Vermouth, chilled
2 C. Sparkling White Wine
Grapefruit and/or lemon wedge for garnish (optional)
Instructions
In punch bowl, stir club soda and sugar until sugar dissolves; add ice. Stir in grapefruit juice, gin, lemon juice and vermouth; slowly add sparkling wine and gently stir. Add grapefruit and/or lemon wedges for garnish (optional). Makes about 7-1/2 cups.
Notes
Helpful Tip:
Avoid diluting punch by creating an infused ice ring that will enhance flavors and presentation of your holiday refreshment. To create the ice ring, line a gelatin mold with the garnish of your choice such as citrus slices, pomegranate arils, fresh cranberries or fresh herbs, then fill with water. A holiday-shaped mold is also a great way to add a festive touch to the ice ring. Freeze until solid, then add another layer of water and freeze for several hours or overnight. Run warm water over bottom of mold to release the ice ring from the mold.
Gin-vincible Punch packs a punch and will be a go-to for your next party! A little sweet, a little sour, with the right amount of bubbles. If you need a tasty treat to serve at you party, try these Leinenkugel's Summer Shandy Lemon Cupcakes.
Shop from the comfort of your home! You can shop online at any of our proud family of stores for these recipe ingredients as well as the rest of your grocery list! We offer curbside pick up at all locations and delivery in select locations as well. Don't forget to connect your MORE Rewards account when you shop online for extra savings, digital coupons, and many other rewards too!
Shop Ingredients