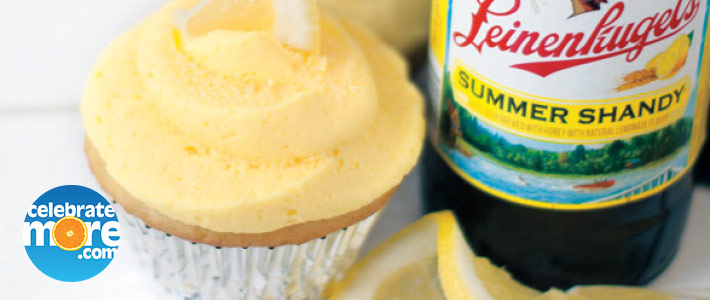 Leinenkugel's Summer Shandy Lemon Cupcakes
Ingredients
1 Box Food Club Yellow Cake Mix
1 C. Leinenkugel's Summer Shandy
3 Eggs
1/3 C. Vegetable Oil
Grated Peel from 1 Lemon
Frosting:
1 Stick Unsalted Butter, room temperature
4-5 C. Confectioner's Sugar
Juice and Grated Peel from 1 Lemon
Over The Top Bee Yellow Sprinkles
Yellow Food Coloring
Lemon Segments
Instructions
Combine all ingredients in large bowl or stand mixer. Mix on low for 30 seconds, then on medium speed for 2 minutes. Fill paper-lined muffin tins 2/3 full. Bake at 350°F for 15 minutes or as directed, until toothpick comes out clean. Cool completely.
Frosting:
Cream butter in large bowl of stand mixer. Add 4 cups confectioner's sugar, lemon peel, juice from 1/2 of a lemon, and desired amount of yellow food coloring on low speed until blended and then at high speed for 4-5 minutes, adding more juice and/or sugar until desired consistency is reached. Pipe frosting onto cupcake with plastic bag or piping bag. Sprinkle with yellow sprinkles and garnish with a segment of a slice of lemon.
Leinenkugel's Summer Shandy Lemon Cupcakes take the sunny season to a whole new level! They're the perfect treat to bring with to the cabin. Or whip up something lighter for dessert and try this Lemon Mousse recipe.
Shop from the comfort of your home! You can shop online at any of our proud family of stores for these recipe ingredients as well as the rest of your grocery list! We offer curbside pick up at all locations and delivery in select locations as well. Don't forget to connect your MORE Rewards account when you shop online for extra savings, digital coupons, and many other rewards too!
Shop Ingredients