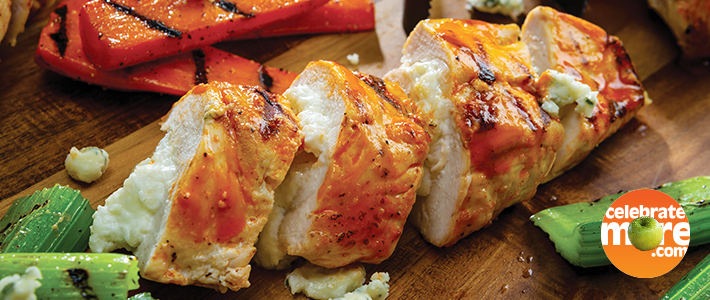 Grilled Buffalo Blue Cheese-Stuffed Chicken Breasts with Grilled Carrots & Celery
Ingredients
½ Cup Crumbled Blue Cheese plus additional for serving (optional)
¼ Cup Cream Cheese, softened
3 Tbsp. Panko Breadcrumbs
4 Boneless, Skinless Chicken Breasts (about 6 ounces each)
½ Cup New York-style Buffalo Wing Sauce
½ tsp Kosher Salt
½ tsp Fresh Ground Black Pepper
6 Celery Stalks, cut crosswise into 4-inch pieces
4 Medium Carrots, halved lengthwise then cut crosswise into 4-inch pieces
1 tsp Olive Oil
Instructions
Prepare outdoor grill for direct grilling over medium-high heat. In small bowl, stir blue cheese, cream cheese and breadcrumbs. Makes about 1 cup.
With sharp paring knife, cut each chicken breast horizontally in half, but do not cut all the way through, leaving about ¼-inch uncut. Open chicken breasts; lay flat between plastic wrap on work surface. With flat end of meat mallet, pound each breast to flatten to ¼-inch thickness; remove plastic wrap. Leaving ½-inch border, spoon cheese mixture over bottom halves of chicken breasts, then roll chicken around filling to enclose; secure with toothpicks. Brush with ¼ cup wing sauce; sprinkle with ¼ teaspoon each salt and pepper.
Place chicken on hot grill rack; cover and cook chicken 10 minutes.
In medium bowl, toss celery, carrots, oil and remaining ¼ teaspoon each salt and pepper; place on hot grill rack and turn chicken. Cover and cook chicken 10 minutes or until internal temperature reaches 165°F, and vegetables 5 minutes, turning once.
Serve chicken with carrots and celery drizzled with remaining ¼ cup wing sauce sprinkled with additional blue cheese, if desired.
Percent Daily Values are based on a 2,000 calorie diet. Your daily values may be higher or lower depending on your calorie needs.