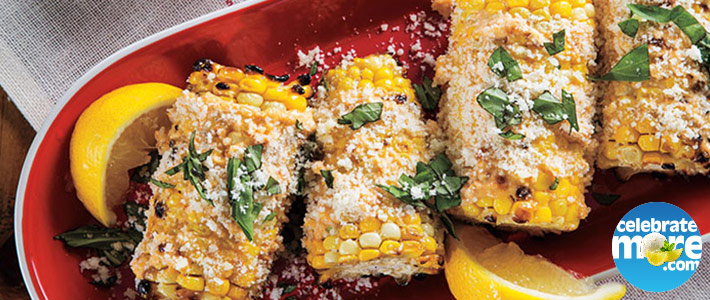 Grilled Corn with Parmesan Spread & Basil
Ingredients
3 garlic cloves, crushed with press (about 1 Tbsp)
1 Tbsp olive oil
1/2 cup mayonnaise
1/4 cup grated Parmesan cheese plus additional for sprinkling (optional)
2 teaspoons fresh lemon juice
1/4 tsp ground red pepper
6 ears of corn, silks and husks removed, cut crosswise in half
Nonstick cooking spray
1/4 cup coarsely chopped fresh basil leaves
Instructions
Prepare outdoor grill for direct grilling over medium-high heat. In small skillet, cook garlic in oil over medium heat 1 to 2 minutes or until golden brown, stirring frequently; cool.
In small bowl, stir mayonnaise, cheese, lemon juice, red pepper and garlic mixture. Makes about 3/4 cup.
Spray corn with cooking spray. Place corn on hot grill rack; cover and cook 10 to 12 minutes or until golden brown, turning frequently.
To serve, brush corn with mayonnaise mixture; sprinkle with additional cheese, if desired, and basil.