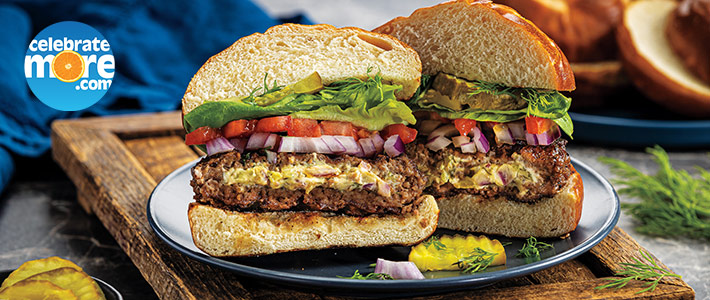 Grilled Dill Pickle-Stuffed Burgers
Ingredients
8 Oz. Package Cream Cheese, softened
12 Kosher Dill Hamburger Pickle Chips, 4 finely chopped
4 Slices Plus 1 Tbsp. Finely Chopped Red Onion
1 Tbsp. Plus 1 tsp. Onion Powder
1/2 Tbsp. Chopped Fresh Dill Plus Additional Sprigs For Serving (optional)
1 1/4 Lbs. Ground Chuck
Nonstick Cooking Spray
4 Pretzel Hamburger Buns
4 Bibb Lettuce Leaves
8 Slices Roma Tomato
Instructions
Prepare outdoor grill for direct grilling over medium-high heat. In medium bowl, stir cream cheese, chopped pickles, 1 tablespoon chopped onion, 1 teaspoon onion powder and dill. Makes about 6 tablespoons.
In large bowl, gently mix ground chuck and remaining 1 tablespoon onion powder; do not over mix. Form ground chuck mixture into 8 (1/4-inch-thick) patties. Over 4 patties, spread about 1 1/2 tablespoons cream cheese mixture to within 1/2 inch of edges; top with remaining 4 patties and press edges together to seal. Spray both sides of patties with cooking spray.
Place patties on hot grill rack; cover and cook 10 minutes or until internal temperature of burgers and filling reaches 160°, turning once. About 2 minutes before burgers are done, place buns, cut side down, on hot grill rack; cover and cook 2 minutes or until toasted.
Serve burgers topped with lettuce, tomato, remaining 4 onion slices and 8 pickle chips, dill sprigs, if desired, and top buns.
Pickle lovers unite with these Grilled Dill Pickle-Stuffed Burgers! Enjoy all the tasty goodness of pickles while grilling! Can't get enough stuffed burger? You'll have to try this Cheese-Stuffed Turkey Burger as well then!
Shop from the comfort of your home! You can shop online at any of our proud family of stores for these recipe ingredients as well as the rest of your grocery list! We offer curbside pick up at all locations and delivery in select locations as well. Don't forget to connect your MORE Rewards account when you shop online for extra savings, digital coupons, and many other rewards too!
Shop Ingredients