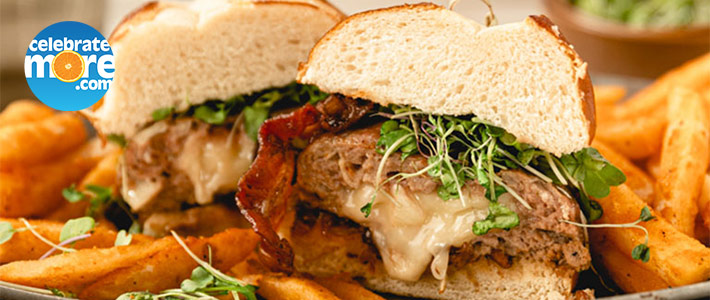 Cheese-Stuffed Turkey Burger
Ingredients
1 Lb. Honeysuckle White® 85% Lean Ground Turkey
4 Slices White Cheddar Cheese
1/2 Yellow Onion, finely chopped
1 tsp. Salt
1/2 tsp. Pepper
1 Tbsp. Garlic Powder
1 tsp. Paprika
1 Tbsp. Worcestershire Sauce
1 C. Microgreens
4 Pretzel Buns
Bacon Onion Jam
4 Slices Bacon
1/2 Yellow Onion
1 Tbsp. Balsamic Vinegar
Sriracha Mayo
4 Tbsp. Mayo
1 tsp. Sriracha
1 tsp. Garlic Powder
Instructions
First heat the grill to high heat. Prepare the Bacon Onion Jam by cooking the bacon in a skillet. Remove the bacon and add the chopped onion.
Cook over medium heat for about 7 minutes, add back in the chopped bacon, and 1 Tbsp. of balsamic vinegar. Cook for an additional 5 minutes on medium low and set aside.
Now prepare the burgers, place the ground turkey in a large mixing bowl and add diced onion, salt, pepper, garlic powder, paprika, and Worcestershire sauce. Incorporate well with hands or a wooden spoon. Using a ¼ cup measuring cup, carefully form 4 thin patties and place on a sheet of parchment paper.
Take a slice of cheese and fold in half, then in half once more. You should end up with 4 small squares. Place this stack on top of one patty. Repeat for the remaining 3.
Using the remaining ground turkey mix, form 4 more thin patties and place on top of the cheese. Press the edges together and ensure the cheese is fully enclosed in the burger.
Begin grilling by greasing the grates with canola oil. Cook the burgers on the first side for 5 minutes, covered. Carefully flip them over and cook for an additional 7-9 minutes or until the temperature of the turkey has reached 165°F.
Remove and set aside to rest while you build the burger. Mix together the sriracha mayo sauce and layer 1 Tbsp. onto each bun.
Top with bacon onion jam, microgreens, and the cooked turkey burger. Enjoy!
Notes
Recipe and image provided with permission from Honeysuckle White®
These Cheese-Stuffed Turkey Burgers With Sriracha Mayo And Bacon Onion Jam are bursting with so many amazing flavors, these are sure to be a new favorite! If you love these, you'll also love this Ground Turkey Fajita Sheet Pan Nachos recipe from Honeysuckle White®.
Shop from the comfort of your home! You can shop online at any of our proud family of stores for these recipe ingredients as well as the rest of your grocery list! We offer curbside pick up at all locations and delivery in select locations as well. Don't forget to connect your MORE Rewards account when you shop online for extra savings, digital coupons, and many other rewards too!
Shop Ingredients