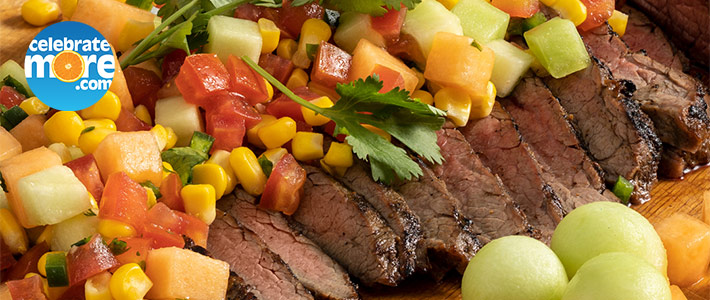 Grilled Flank Steak with Melon and Corn Salsa
Ingredients
2 1/2 Tbsp. Extra-Virgin Olive Oil, divided
1 Tbsp. Brown Sugar
1 1/2 tsp. kosher salt, divided
1/2 tsp. Ground Black Pepper
1/2 tsp. Ground Cumin
1/2 tsp. Ground Coriander
1/2 tsp. Garlic Powder
1 1/2 Lb. Flank Steak
1 C. Cantagold Cantaloupe, diced
1 C. MelloSweet Honeydew Melon, diced
1 C. Corn Kernels
2 Roma Tomatoes, seeded and diced
1 Jalapeno Pepper, seeded and diced
1/4 C. Chopped Fresh Cilantro
2 Tbsp. Lime Juice
Instructions
Whisk together 2 tablespoons olive oil with brown sugar, 1 teaspoon kosher salt, pepper, cumin, coriander and garlic powder. Transfer marinade to a zip-top bag, add flank steak and seal. Toss steak in bag to thoroughly coat with marinade, then refrigerate at least 4 hours and up to overnight.
Make salsa by combining cantaloupe, honeydew, corn, tomatoes, jalapeno, cilantro and lime juice in a bowl. Add remaining olive oil and kosher salt, and toss to combine.
Preheat grill or grill pan to medium-high. Remove steak from marinade, letting excess marinade drip away. Grill steak 3-4 minutes per side, or until the internal temperature reaches 130°F in the thickest part. Transfer steak to cutting board and let rest for 10 minutes.
Cut steak into 1/4 inch slices, against the grain and top with salsa.
Grilled Flank Steak with Melon and Corn Salsa is the perfect balance of sweet and savory that will have your taste buds dancing! Enjoy even more melon inspired recipes with this Green Goddess Honeydew Salad!
Shop from the comfort of your home! You can shop online at any of our proud family of stores for these recipe ingredients as well as the rest of your grocery list! We offer curbside pick up at all locations and delivery in select locations as well. Don't forget to connect your MORE Rewards account when you shop online for extra savings, digital coupons, and many other rewards too!
Shop Ingredients