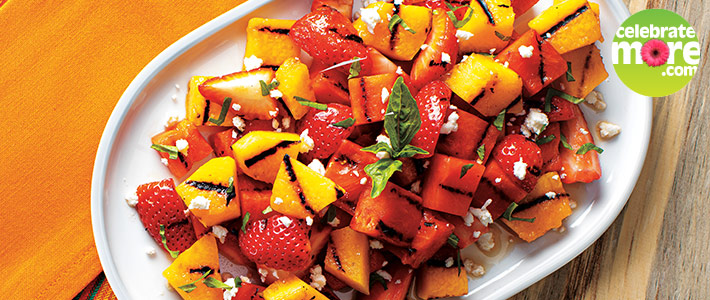 Grilled Fruit Salad with Balsamic Drizzle
Ingredients
8 Large Strawberries, hulled
1 Cantaloupe (about 3 Lbs.), rind removed, halved crosswise, seeded and cut into 1-inch-thick half moons
1 Seedless Watermelon (about 3 Lbs.), rind removed, halved crosswise and cut into 1-inch-thick half moons
Nonstick Cooking Spray
1 Cup Crumbled Feta Cheese
2 Tbsp. Balsamic Glaze
2 Tbsp. Fresh Basil, chopped
Instructions
Prepare outdoor grill for direct grilling over medium-high heat. Spray strawberries, cantaloupe and watermelon with cooking spray. Place fruit on hot grill rack; cook strawberries 3 minutes, and cantaloupe and watermelon 6 minutes or until grill marks appear, turning once. Transfer fruit to cutting board and cool; cut 4 strawberries, cantaloupe and watermelon into 1-inch pieces.
In large bowl, toss cut fruit and cheese. Makes about 11 cups.
Serve 8 cups fruit salad drizzled with balsamic glaze and sprinkled with basil; cover and refrigerate remaining fruit salad and 4 whole strawberries up to 1 day.
Percent Daily Values are based on a 2,000 calorie diet. Your daily values may be higher or lower depending on your calorie needs.